---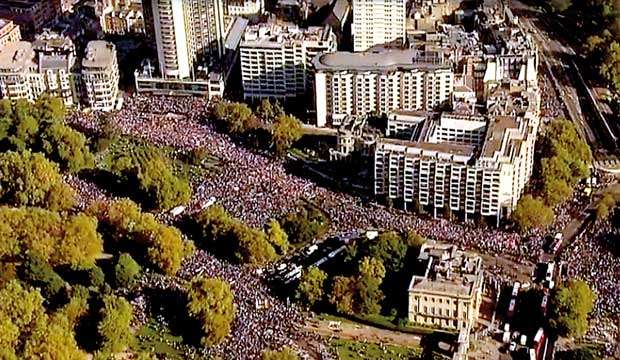 UK, (Daily Mail), 20 October 2018 - More than half a million anti-Brexit campaigners gathered for a protest dubbed 'The People's Vote March' in central London today calling for a second referendum.

Organisers, who originally expected around 100,000 to attend, said 670,000 demonstrators marched from Park Lane to a rally in Parliament Square.

If true, today's demonstration would be the biggest since 2003 when an estimated one million people protested against the Iraq War in the streets of London.

About 150 buses ferried thousands of activists from across the country to the capital this afternoon while thousands dressed in royal blue clothing emblazoned with gold stars, brandishing signs which read 'bin Brexit now' and 'I want a say on Brexit'.

London Mayor Sadiq Khan said Saturday's event was a 'march for the future' for young Britons, including those who were too young to vote in Britain's 2016 EU membership referendum.