---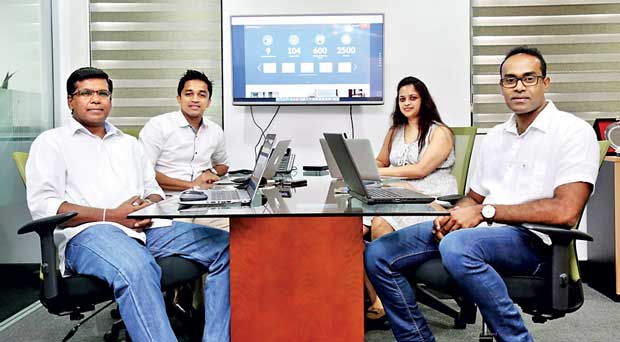 After a record-breaking performance at international competitions in 2016, eMarketingEye (www.emarketingeye.com), the award-winning Sri Lankan digital marketing agency and a pioneer in the industry, welcomed the new year with six 'Best in Class' wins at the prestigious Interactive Media Awards (IMA) competition held recently.
The haul at the IMA included wins for Aitken Spence Holidays, Jetwing Holidays and Mosvold Sri Lanka (Travel/Tourism category), Ayura Studio (Fashion/Style category) and Dilmah Food Services (Food/Beverage and Retail category).
The Interactive Media Awards (IMA) is a competition that aims to increase the standards of excellence on the Internet. It is open to individuals and organisations involved in designing, developing, managing, supporting and promoting websites with nominations being accepted from around the world from web design firms, advertising agencies and corporate marketing departments, as well as individual web designers and graphic artists.
The competition's judges evaluate websites based on five key criteria - design, content, feature functionality, usability and standards compliance. In order for a website to win a coveted IMA Award, it must excel in each criterion by standing out from the competition and deserve to be a top choice for the target market.
Established in 2007, eMarketingEye has grown to be one of the best in the Asian region over the past 10 years, having gained international recognition for its expertise in providing end-to-end online marketing solutions to the travel and hospitality industry.
The company is a Google AdWords and Analytics Certified Partner Company that offers the total range of online marketing services including search engine optimization (SEO), web development, pay per click marketing (PPC), social media optimization, online marketing consultancy, content development, Internet booking engine, e-mail marketing, web analytics and hotel fact sheet development.
Since the very first award win back in 2007, eMarketingEye has been bagging international awards every year for successful online marketing campaigns and website development projects. In the year 2016, the company reached a record haul of 27 award wins during the year, making it the most successful year in its history.
Commenting on the latest wins of the company, eMarketingEye CEO Rajitha Dahanayake said, "2016 was a ground-breaking year for eMarketingEye in terms of the number of award wins. It is clear that we have carried forward that winning trend into 2017 as well. While we have always been consistently winning awards for our solutions in the travel and hospitality industry, it is encouraging to note that we were able to bag awards in categories such as fashion, food and beverage and retail. While it highlights the fact that we have got our approach spot on, we can look forward to more wins in diverse industries throughout the year."
eMarketingEye is the only digital marketing agency in Sri Lanka specialising in the travel and hospitality industry. It provides integrated marketing solutions for a diverse range of clients and has garnered an impressive portfolio in this 10-year period. A majority of eMarketingEye's client list includes leading international travel and hospitality brands such as The Ascott Limited, Berjaya Hotels & Resorts, InterContinental Hotels Group (IHG), Anantara Hotels, Resorts and Spas, COMO Hotels & Resorts, Starwood Hotels, Oaks Hotels & Resorts, Chatrium Hotels and Residences and The Fullerton Hotel.
The company also has an impressive array of Sri Lankan travel and hospitality clientele such as Jetwing Hotels, Aitken Spence Hotels, Cinnamon Hotels and Resorts, Theme Resorts, Uga Escapes, Cantaloupe Hotels, Serendib Leisure, Asia Leisure, Mosvold Hotels, Mount Lavinia Hotel, 98 Acres Resort & Spa and The Blue Water Wadduwa, among many others.
In recent years, the company has expanded its reach beyond the travel and hospitality vertical and encompasses diverse sectors such as food and beverage (F&B), fast-moving consumer goods (FMCG), finance and education. The clientele comprises industry leaders including Dilmah Tea, John Keells Logistics, Vision Care Optical Services, DSI Tyres, CINEC Campus, Elysian Realty, Cinnamon Life, H-Connect, InfoMateand Candor Holdings.