---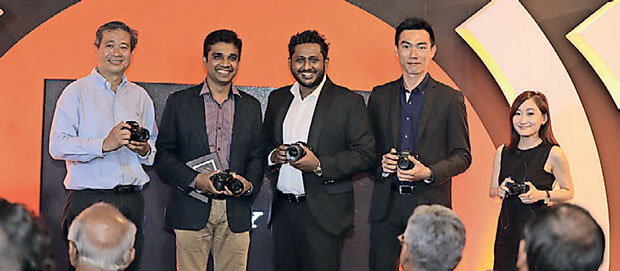 From left: Head Sri Lanka Representative Office Sony Alex Yee, Owner Studio U (Pvt) Ltd. Kushantha Hewapathirana Sony Alpha Ambassador, Managing Director CameraLK Anushka Gunasinghe, Sony International (Singapore) Ltd Senior Manager Business Development Jeremy Heng and Assistant Manager DI Category April Lee introducing the all new Sony Alpha 6500 and Alpha 7 series
Sony Electronics demonstrated a wide range of innovative digital imaging products at the Alpha Festival at Waters Edge Battaramulla recently.
The event allowed photographers and videographers to discover the latest creative tools that can enable them to bring their visions to their life. The event featured key products from the latest additions to Sony's line-up of award winning mirrorless cameras – the Alpha 6500 and the Alpha 7 series. The brand new Semi-Telephoto G-Master SEL1000F28GM lens was also displayed at the festival.
The event was co-organized together with CameraLK, the official Sony Distributor in Sri Lanka. The event featured live booths including models, toy photo booths where the avid photography lovers had an opportunity to test the new Sony α6500 and α7 series.
Another highlight was the workshops conducted by Sony Alpha Ambassadors Kushantha Hewapathirana & Dimitri Crusz and 4 professional photographers – Henry Rajakaruna, Shantha Gunaratne, Meesha Gunawardena and Anushka Eranga together with CameraLK.
Speaking about the event Alex Yee, Head Sri Lanka Representative Office Sony said, "This is a unique opportunity for all photography and videography enthusiasts across Sri Lanka. The event not only gives the photography fan to experience the latest Sony mirror-less photo technology but also help them learn the techniques and get involved with the knowledge sharing workshops further enhancing their skills." He further added, "We remain committed to Sri Lanka offering the latest technology and expertise while building the aspirations of the photography community across the nation".
The α6500 has a 4D FOCUS system, which can lock focus on a subject in as little as 0.05 seconds – the world's fastest AF acquisition time. It can also shoot images at up to 11 frames per second with continuous autofocus and exposure tracking, and up to 8 frames per second in a live-view shooting mode that makes it easy to track fast moving subjects. Together with a continuous burst mode of up to 11 fps and 4K video capability, photographers will never miss a moment with
the α6500.
The full list of camera and lens models that was showcased at the Alpha Festival are:α7R II, α7S II, α7 II,α7R, α7, α6500, α6300, α6000, α5100, α5000 models and the SEL100F28GM.