---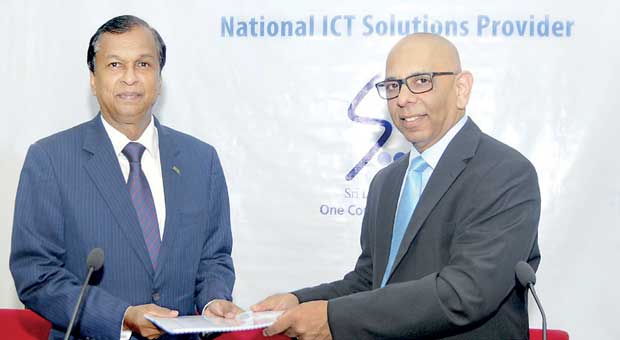 Sunil Dissanayake, Director General and CEO of the BMICH and Dileepa Wijesundera, Group CEO of SLT exchanging the agreement
The country's leading ICT solutions provider, Sri Lanka Telecom recently entered into a partnership with the BMICH, becoming the iconic venue's official ICT partner.
The contract was officiated at Cinema Lounge of the BMICH in the presence of Sunil Dissanayake, Director General and CEO of the BMICH and Dileepa Wijesundera, Group CEO of SLT.
The initiative is made up of a fully-integrated digital security camera system, as the BMICH is a preferred location for mass scale premium International & Local events. This step is to ensure security to the hundreds of public who come to BMICH weekly, local and international VIPs who attend functions & events.
Wi-Fi coverage of the premises provided by 23 Access Points (APIs) will cover a multiple number of locations including the Main Conference & Concert Hall, Banquet Hall, Exhibition & Convention Centre, Function Rooms, Nuge Sevana, Mihilaka Medura, Bandaranaike Centre for International Studies (BCIS) and the Restaurants, thus enabling a seamless connectivity of 100 MB per month to everyone who steps into BMICH premises aligning to the public free Wi-Fi initiative by the government.
Wi-Fi is enabled throughout the entire premises with hi-bandwidth fibre links while the exhibition areas can boast of FTTH facilities which allow exhibitors to obtain necessary connections for their stalls as well as receive point-to-point links, VPNs and business internet lines via fibre. Whilst also introducing "fibre to the premises technology" with fibre based ultra-high speed broadband as well as a new SLT Experience Centre and Teleshop where any visitor may experience the full extent of SLT & Mobitel services, including the payment of bills, at the BMICH.
SLT is the most reliable and cost-effective ICT solutions provider in Sri Lanka due to the organization being the long-standing national communication service provider for enterprises, business organizations and SMEs.
Known for its flexibility of customizing solutions SLT is capable of providing services of the highest quality thanks to the level of technology possessed by the organization thus making operations much smoother and convenient at the award winning BMICH as well as for the venue's visitors.