---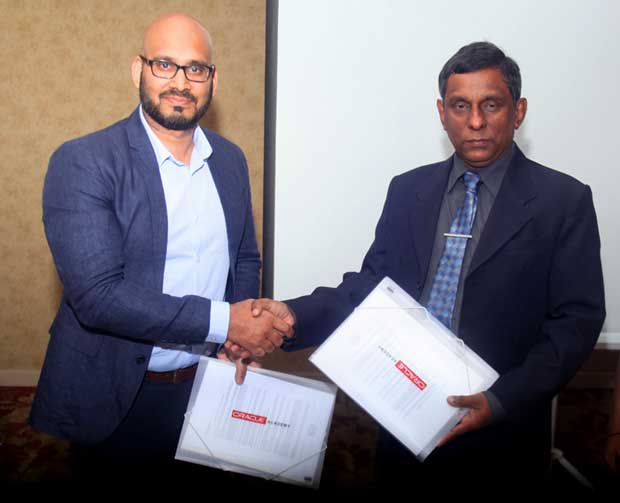 Building on Oracle's commitment to expanding its support of education globally, Oracle Academy and the Ministry of Education Sri Lanka, have signed an agreement to integrate Oracle Academy's programmes into 200 institutes island-wide under the ministry's purview supporting over 10,000 students on the pathway to future
IT careers.
Over the next three years the agreement will also facilitate the training of 200 faculty members at the secondary and higher secondary levels where ICT and Computer Science are part of the curriculum.
Oracle Academy will facilitate a 'train-the-trainer' course to ramp up faculty members as instructors for five Oracle Academy courses including Database Foundations, Database Design and Programming with SQL, Programming with PL/SQL, Java Foundations, Java Fundamentals, and Java Programming. After completing their training with Oracle Academy, the faculty members will leverage the Oracle Academy infrastructure and materials to train other faculty members and students. Once the initial groups of faculty are trained, they will be permitted to use the Oracle Academy infrastructure to train their students.
"Our mission is to develop competent citizens keeping with the global trends through innovative and modern approaches to education and the Ministry is committed to investing in education programs that help inspire students' interest in Computer Science," said Sunil Hettiarachchi, Secretary to the Ministry of Education. "We look forward to working with Oracle very closely to help prepare our youth island wide for Computer Science education. This partnership provides cutting edge information technology skills for our students to be competitive in the future."
"Oracle works to advance education with state-of-the-art technology programs that awaken and deepen students' interest in computer science," said NatasakRodjanapiches, Managing Director, Oracle Thailand and Sri Lanka. "We are pleased to work with the Ministry of Education Sri Lanka to help promote and strengthen computer science education and train teachers across Sri Lanka on the Oracle Academy curriculum. These efforts will ultimately help expand the reach and depth of computer science education, and encourage students to explore the power of computer programming and the opportunities made available via computer science education."
"Computer science is a constantly changing field and teachers need access to quality professional development to help ensure exemplary teaching. This partnership between Ministry of Education in Sri Lanka and the Oracle Academy will help enable hundreds of teachers to learn new skills and build strong learning communities," said Damian Haas Regional Director, Oracle Academy, Asia Pacific and Japan. "We work with educational institutions to help teachers develop core computing knowledge and skills aligned to industry demands using current technologies–so they can teach students. This is an opportunity for teachers, to grow both professionally and as a community
of teachers."
Oracle Academy's mission is to advance computer science (CS) education globally, and drive knowledge, innovation, skills development, and diversity in technology fields. Oracle Academy programs and curriculum offers access to world-class software, Java development environments, faculty training, curriculum, certification preparation, and more − all designed to help students increase the relevance of their academic programs and easily expand their course offerings.