---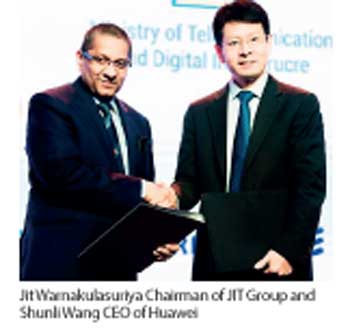 Just In Time Group (JIT), a wholly Sri Lankan owned flagship ICT systems and solutions company signed its partnership with Huawei, a leading ICT provider across enterprise and carrier business segments in Sri Lanka as a strategic partner at the recently concluded Infotel 2017 CXO event.
Infotel is Sri Lanka's premier national ICT exposition and conference, organised and hosted by the Federation of Information Technology Industry Sri Lanka (FITIS). Inaugurated in 1992, FITIS and INFOTEL celebrating their 25th anniversary this year as the biggest and most prestigious ICT exhibition in Sri Lanka and the whole of South Asia.

JIT and Huawei's strategic partnership is committed to enabling the future of building a better connected Sri Lanka and thus demonstrating confidence in the Sri Lankan market. The synergy of this partnership will provide many benefits to the business landscape of Sri Lanka, and is committed to support anddeliver towards the vision set by the Ministry of Telecommunication and Digital Infrastructure of a digitally empowered nation.

JIT is proud of its progression and along with our strategic principals; we are committed to creating a brighter future for Sri Lanka - paving the way for further success. "We are very optimistic and foresees much synergy and contribution towards the government's vision and are elated at this strategic union with a reputed technology giant like Huawei," shared Jit Warnkulasuriya, Chairman Just In Time Group. Through this union, we envision implementing new solutions and techniques for digitally transforming the functionality of government and public sector.
Shunli Wang CEO of Huawei Sri Lanka said, "We are indeed delighted to partner with JIT offering the very best innovative solutions in making Sri Lanka a digitally empowered nation. Huawei enterprise provides a broad range of innovative ICT infrastructure products and solutions for vertical industry and enterprise customers worldwide and we are keen to provide our enterprise solutions to Sri Lanka".
Huawei has been committed to fully leveraging the power of cloud computing, Software-Defined Networking (SDN), Big Data, and the Internet of Things (IoT) to build an open, flexible, resilient, and secure platform, and foster a collaborative and win-win ecosystem in which all players can thrive and prosper. Currently, a total of 197 of Fortune Globe 500, including 45 of the top 100, have chosen Huawei as their partner in digital transformation.

Huawei is a leading global ICT solutions provider, focused on the carrier networks, enterprise, consumer, and cloud computing fields. Huawei products and solutions have been deployed in over 170 countries, serving more than one third of the world's population. Huawei began its operations in Sri Lanka in 2005. At present, Huawei works with Sri Lankan operators to provide network service for about 70 percent of the population in Sri Lanka. Huawei's smartphones are welcomed by Sri Lanka consumers and are the fastest growing smartphone brand in the country. JIT, a veteran in the local ICT arena with a history spanning 21 years as a leading ICT systems and solutions integrator to the country. JIT was recently listed in the latest edition of the APAC CIO Outlook magazine's Top 25 Govt. and Public Sector Technology Providers 2017 and as the only Sri Lankan company to be featured and recognized in the magazine's annual listing of the Top 25 government and public sector technology providers 2017.

This prestigious recognition for JIT is an echo of the commitment of the JIT team's efforts of delivering innovative solutions and service excellence, as a leader in systems and solutions integration in Sri Lanka – with a special mention to JIT's ability to manage any customer challenge and achieve 100% User Acceptance Test (UAT) sign offs.