---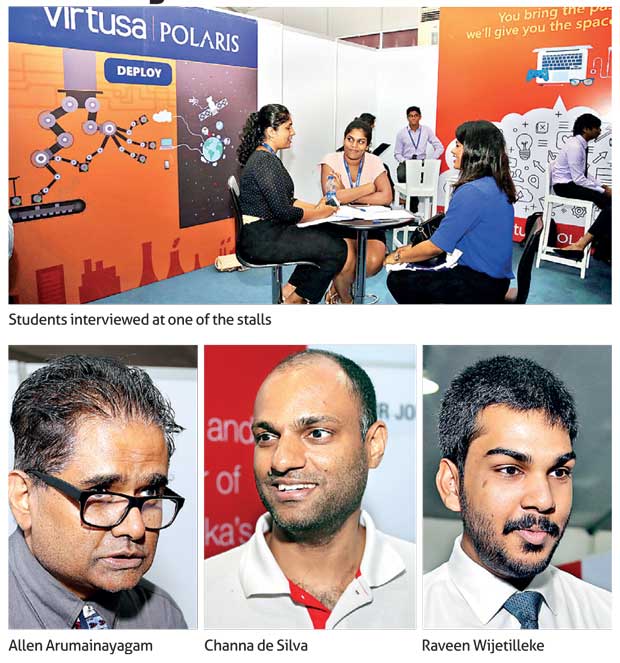 The Informatics Institute of Technology (IIT), a pioneer in providing British higher education in information technology and business in Sri Lanka, recently held its annual 'Careers Day' at the BMICH.

The IIT Careers Day was organised with the objective of providing an opportunity for their graduates and students to obtain employment and internship opportunities at some of Sri Lanka's leading companies.

This year's Careers Day was attended by students and graduates of the institute and included the participation of 36 leading, top-notch, local blue-chip and multinational companies including WSO2, John Keells, Virtusa Polaris, IFS, 99X Technology, CodeGen and Millennium IT.

Concentrating heavily on the employability of graduates who complete their education at IIT, the Careers Day is a platform for both graduates who are searching for internships and career opportunities and potential employers who are looking for new talent to
bring on board.

Speaking at the IIT Careers Day, WSO2 Director HR Pramila Rajapaksa said, "We are here to interview fresh graduates for internships. IIT has always provided the best for students so we always have a good candidate to hire. It's a win-win situation for everyone. The companies can hire the best candidates and students have an opportunity to start their careers and gain experience from the best
in the field."

John Keells Holdings Head of Sales and Marketing Strategic Group IT Kisan Kirtisinghe said, "The main reason why we join hands with IIT is to ensure that we can recruit the best candidates. I feel that the calibre of interns and the resources that we get from IIT are of very high standards. That makes it easier for us to groom them into successful professionals."

Boston, USA-based company Keetha Consulting Founder Allen Arumainayagam said, "IIT Career Day is a very good initiative as it helps students to be employed by prominent companies and gain experience in the corporate world. At the same time IIT offers these companies the platform to meet their students and graduates, evaluate them and hire them. I have been part this programme since 2005 and just came down from the USA representing my company mainly for this event. I'm looking to hire talented students and undergraduates from IIT."

"I can see lots of talented graduates which is good. So far I have interviewed many talented students. IIT is doing a really good job every year so students can start their careers and get experience," Creative Software Director Software Engineering Channa de Silva said.

Speaking from a student's perspective, Raveen Wijethileke, who is a final year student at IIT, said, "This is my second time at the Careers Day and it's been great. Last time I was able to get an internship at Virtusa. I got that opportunity because of IIT. Studying at IIT is an awesome experience. I've been here for four years now and the knowledge that I've gathered has helped me a lot to plan my career."