---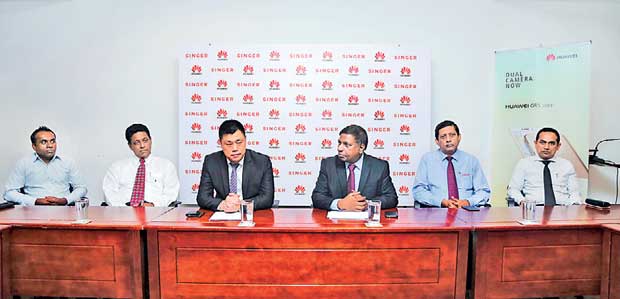 From left: Huawei Sri Lanka Marketing Manager Ruwan Gamage, Singer Sri Lanka PLC Director Operations Chandana Samarasinghe, Huawei Device Sri Lanka Country Head Henry Liu, Singer Sri Lanka PLC CEO Asoka Pieris, Singer Sri Lanka PLC Director Marketing Kumar Samarasinghe and Singer Sri Lanka PLC Business Development Manager Jagath Perera
Singer Sri Lanka PLC and Huawei recently celebrated a successful partnership of over four years together. Huawei joined hands with Singer Sri Lanka in 2012 and through Singer's marketing and distribution strategies Huawei has gradually built a sound position in the Sri Lankan smartphone and tablet market today.
In recognition of having realized a myriad of achievements in a very short period of time, Huawei and Singer announced their success at a press brief, which was conducted at the Singer head office in Navam Mawatha, amongst a distinguished gathering of Singer Sri Lanka and Huawei Sri Lanka management including Singer Sri Lanka PLC Group CEO Asoka Pieris and Huawei Device Sri Lanka Country Head Henry Liu.
Huawei chose to associate its brand with Singer Sri Lanka due to its brand reputation that was evident amongst the Sri Lankan public. Having started from a zero base in 2012, Singer had successfully assisted in propelling Huawei's brand image and market share to over 30 percent by the third quarter of 2016, according to the latest analysis from user experience research experts GfK.
"In terms of technology, Huawei had no doubt adapted itself and its brand name within a more localized outlook to suit the prospective Sri Lankan smartphone user. Coupled with the Singer brands know-how, customer base, islandwide reach and backing from dealers, Huawei has in a very short period of time made a name for itself working alongside Singer," said Pieris.
Pieris also disclosed that smartphones valuing Rs.6.5 billion has been sold to date through Singer dealerships. In Sri Lanka, Huawei has shown an increase in sales mainly in the Western region but almost the entire country has shown an equal pattern of growth in Huawei-branded smartphone sales.
Commenting on Huawei's growth for the past four years, Huawei Device Sri Lanka Country Head Henry Liu remarked, "Huawei has a reputation for aligning a dedicated and stringent approach towards offering customers technological breakthroughs and we are committed to offer the best of tech-related options to the smartphone user. Encompassing unique features such as dual cameras and finger-print access, Huawei always works to step up the game and achieve ambitious targets when it comes to achieving sales growth. I am confident to say that Huawei together with Singer will target to be number one in Sri Lanka in 2017."
"We appreciate Singer Sri Lanka's contributions for having brought Huawei to this level and as our focus is only to bring the best to Sri Lanka, Huawei looks forward to even more amazing additions to the product portfolio in terms of 4G fast downloads, smartphones covering all ranges of budgets as well as a tablet to the Sri Lankan market," Liu acknowledged.