---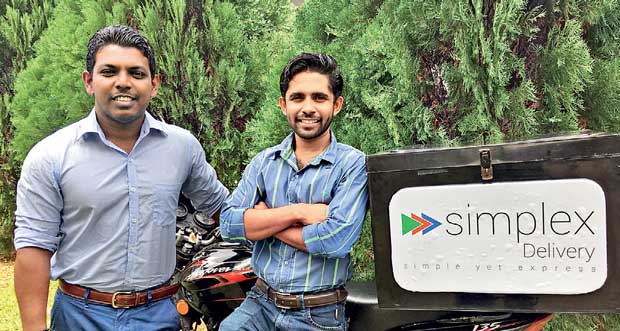 Simplex Delivery, the local pioneer in next-day, to-your-doorstep e-commerce deliveries, has expanded its network to cover the whole of Sri Lanka from January 25, 2017.
A 'last mile' delivery service for e-commerce companies, Simplex Delivery's competitive edge is undoubtedly its ability to get its customers' products to the remotest locations in Sri Lanka within the shortest possible timeframe.
Importantly, Simplex Delivery was aided in its expansion plans by a significant investment by BOV Capital, a Sri Lanka- and Singapore-based venture capital firm that invests in local technology-oriented ventures. The company also benefitted from the direction of its Co-Founders Inas Jenabdeen and Thilina Fonseka, as well as advice and expertise from BOV Capital's Prajeeth Balasubramaniam, Eric Wikramanayake and Rajan Anandan.
Since its inception in June 2015, Simplex Delivery has grown from strength to strength, having begun its operation by delivering for the likes of Daraz Sri Lanka (formerly Kaymu) in Trincomalee.
Elaborating further, Daraz Sri Lanka's Head of Logistics Darshika Attanayake said, "Simplex Delivery has been a valued delivery partner to Daraz for the past two years, providing excellent service and support. Since inception, Simplex Delivery has grown tremendously and successfully provides next-day delivery with online tracking services across the areas serviced. The company continuously strives for process improvements and maintaining effective control in a complex cash-on-delivery service environment—thus enabling Daraz to maintain its high customer experience standards." Over the months following its pioneering partnership with Daraz Sri Lanka, Simplex Delivery has grown to become an 80-person operation, which allows it to serve more than 40 small, medium and large e-commerce businesses. Simplex Delivery has today already exceeded the 500 deliveries per day milestone.
At the same time, Simplex Delivery's services are also bundled with cutting edge technology that allows full transparency to e-commerce firms and their customers to track orders at every stage. Via its next generation "Simplex Connect" platform, the company provides a number of Sri Lanka-first benefits including COD handling and Returns Management, both with no additional charge, as well as to-your-doorstep customer care and web-based order tracking for the online shoppers, and even automated COD reconciliation for the online stores, to easily manage payments.