---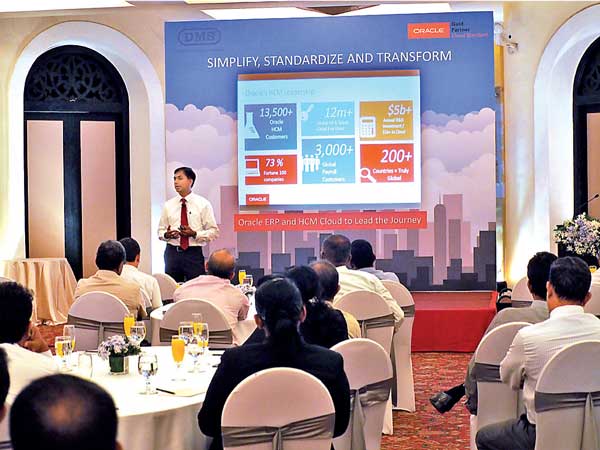 Businesses of the 21st century thrive on innovation, especially to leverage the advantages of Information Technology.

The benefits of using Cloud applications therefore are on the upsurge, particularly for small to medium sized entities that have successfully facilitated their business processes via the Cloud. Accordingly, they've enjoyed the benefits of large corporates who deploy premise solutions, but void of the substantial upfront investments borne by such corporate giants.

The event hosted by DMS recently at the Taj Samudra, endorsed the deployment of Cloud applications for Sri Lankan businesses. Being at the forefront of enterprise Cloud software development, Oracle's main Cloud application offerings revolve around 'Oracle ERP' and 'Oracle HCM Cloud'.

As such the correct ERP Cloud solution would enable the modern day business to not only grow smarter and empower people, but also to maximize value in the process. A modern ERP Cloud therefore would primarily simplify, standardise and automate business processes, which would facilitate orgnisations to maximise growth opportunities and thereby grow smarter. Secondarily it aims to empower people through collaboration, analysis and performance acceleration. Thirdly it would maximize value by reducing costs and by allocating resources to better use.

The Oracle ERP Cloud solution renders accurate insights by providing the right information at the right time, in a simple to use self-service application, from the onset. Organisations can therefore facilitate their workforce to access the Oracle ERP Cloud anytime and from any location, through mobile accessibility.

The Oracle Human Capital Management (HCM) Cloud is another fundamental Cloud offering that has been utilised by thriving organisations for the purpose of attracting and retaining top talent within the respective institution. Its innovative portfolio is designed to help enterprises stay competitive without the on-premise systems and cost. Thereby delivering crucial insights, analysis and tools needed to safeguard and preserve the workforce suitable for the organisation's needs while aligning HR strategies alongside its core business strategies. Through talent management, social relationship management and global human resource functions the Oracle HCM Cloud transfers its richly comprehensive benefits to all entities partnering with the system.

With the aim of empowering modern human capital and talent management in the Cloud, the Oracle HCM provides the right business intelligence, tools and technology to augment productivity. It also delivers a comprehensive global HCM suite that is compliant within any system that would aid organisations to balance efficiency and service. Oracle is also the premier name for delivering best of breed talent acquisition so that talent acquisition will directly support the organisation's strategic objectives.

Enterprises therefore need to ensure that the entire HCM lifecycle supports their overall strategic objectives and thus facilitate the right information to flow down to the Management for strategic planning. In light of the fierce competition for talent acquisition and the need to groom businesses for future challenges, this has elevated the need for deploying Oracle HCM Cloud initiatives across the globe, particularly within the field of talent acquisition.