---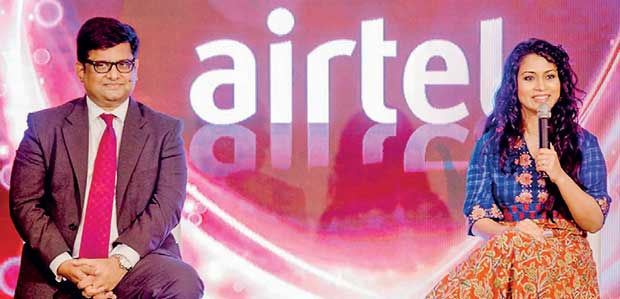 By Zahara Zuhair
Bharti Airtel, the Indian mobile network operator said that they will continue to invest in networks and capacity building in Sri Lanka, and expressed its commitment to empower the youth in Sri Lanka, at their eighth anniversary celebration held in Colombo last week.
The event also saw the appointment of actress Poojah Umashankar as the brand ambassador for the year 2017, where she will spearhead youth empowerment activities.
"To uphold our promise to the customers, we have expanded our 3G reach by 40 percent over the last two years, and will constantly strive to bring in technologies that will keep us in that position," Bharti Airtel Lanka CEO Jinesh Hedge said noting that it has been a transformational journey.
"We have always tried to build networks, irrespective of the device. We also keep affordability as a prime offering for our customers. We aim to further improve mobile 3G internet status" he said.
Being the last entrant (fifth) to Sri Lanka in 2009, they have invested Rs. 68 billion so far and have reached more than one million customers in Sri Lanka.
However, he did not reveal the amount of investment for this year owing to their policy decision that doesn't allow them to share financial details
in isolation.
Sharing few testimonies of the brand, he said, "Recently Huawei did a network study and Airtel came on top as the best 3G network provider, and also our regulator Telecommunication Regulatory Commission (TRC) also tested speeds where we became the first in the country in terms of 3G speed,"
"This gives us confidence to provide more services where many customers will chose Airtel," he stressed.
Talking about her new role, Poojah Umashankar said that she will continue to empower the youth of Sri Lanka which is the brand's promise.
"Together with Airtel we will provide more opportunities for the youth of Sri Lanka to develop themselves and get closer to their dreams, no matter which corner of the country they may be in," she said.
Hedge said that keeping youth in mind and to provide them a platform to show their skills, Airtel had multiple partnerships. "If you recall, Airtel Rising Star which was one of our partnerships with world's top football playing club Manchester United, we sent 20 kids from Sri Lanka to United Kingdom (UK), where they were trained under the best coaches," he said.
"Currently, we also have tied up with universities such as Sri Jayawardenapura and Kelaniya for leadership development and communication, and business related programmes,"he added.
At the event, Airtel also rewarded the first few customers with lifetime free calls on its network.
With an investment of over US $ 350 million in its Sri Lanka operations, its impact in the market included the introduction of several innovative services, per second billing, the lowest IDD rates, the lowest international voice and data roaming rates.
Registered under the Board of Investment (BoI) in Sri Lanka, Airtel Lanka provides digital mobile services, which include voice, data services and enterprise solutions.