---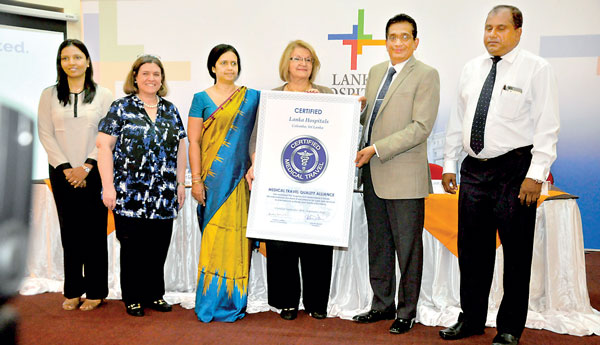 MTQUA President Julie Munro presenting the official certification to Lanka Hospitals PLC Chairman Dr. Sarath Paranavitane
Pic by Waruna Wanniarachchi
By Zahara Zuhair
Lanka Hospitals PLC received the international medical tourism accreditation from US-based Medical Quality Alliance (MTQUA) recently, becoming the first Sri Lankan member of the MTQUA family.
The hospital achieved it after undergoing a month long evaluation that included in-depth interviews and a formal review of its operations, processes and procedures against international quality standards in 9 non-clinical areas that directly influence a medical traveler's wellbeing and outcome.
"We have been most impressed with Lanka Hospitals' medical and support teams during the certification process. It is ready to take leadership in helping to move forward Sri Lanka's medical tourism sector," MTQUA President, Julie Munro said at the event held to present the certification at the hospital auditorium.

"Medical travel certification that we have awarded covers many aspects. We do the marketing, the website, facilitate communication, how you communicate with the patient, we are sensitive towards cultural and religious issues. This is what medical travel certification demonstrates It is not just for international patients," she stressed.
Lanka Hospitals PLC Chairman Dr. Sarath Paranavitane said that as Sri Lanka being a tourism destination and embarking on a journey to attracting tourists to earn foreign revenue, Lanka Hospitals is fulfilling all international standards because they want to place the hospital and country among the top medical tourism providers.
When it comes to international patients, the hospital officials told that they be will look everywhere especially Europe.

Aligning with the government's master plan to achieve US $ 20 billion through professional service exports by 2020, which highlights medical tourism as a main sub sector, the hospital said that they will continue in its service delivery towards international patients.
Hospitals, clinics and agencies in more than 20 countries are certified by MTQUA which includes Fortis Hospital India, Gleneagles Hospital Singapore and Bumrungrad Hospital Thailand.
MTQUA, is an independent international organization dedicated to developing and promoting the highest standards of excellence in delivering treatment and care to medical travellers and health tourists.