---

These are times when underworld drug lord Makandure Madush has shifted the attention of everybody towards narcotics. This is an interview with parliamentarian Lakshman Yapa Abeywardena who once carried out his political work in Makandura. Excerpts:
QWas Armbawelage Don Upali alias Soththi Upali a member of the UNP Executive Committee?

Yes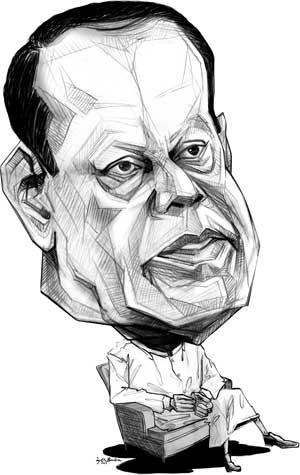 QWasn't a Presidential pardon given to rapist Gonawala Sunil by President J.R. Jayewardene

Yes.

QWhen one considers the underworld in the south, there were political relationships between members of Underworld gangs,Wambotta and Suriyawewa Rathnaweera brothers. Do you agree?

Yes.

QDo these incidents indicate a long history of political links with the underworld?

Various people in the society help politicians and among them are religious leaders, top class businessmen, middle level businessmen, teachers as well as people from different walks of life. They help politicians of all parties. There are occasions to obtain their help. However, honest politicians never associate shady characters. Politicians should not help people with questionable backgrounds in their anti-social activities. But they may help them if the intentions are reasonable. But some politicians offer help, regardless.

QWhat is the nature of the connection you have with Makandure Madush?

I have not been involved in any wrong doing in my life; politically or privately. I have no connection with the individual known as Madush. The only connection with this name is the village. Though it is said that Madush is a resident of Makandura, he is from Kamburupitiya. Madush's mother died when he was a child.
Politicians should not help people with questionable backgrounds

I have no connection with the individual known as Madush

QWas his mother a JVP activist?

There are different stories. Some speak of the involvement of the security forces in the matter. Later Madush's father married another lady. Madush studied at a school in Kamburupitiya. A girl from a respectable family in Makandura also studied in the same school. Her name is Gayani. Following a love affair they got married.

QMy question is about your connection with Madush.

There is no such connection except that of Madush coming to live in his wife's house in Makandura. In the area in the proximity of about one and half kilometres of this residence are the houses of five politicians, namely the son of my father's elder brother Mahinda Yapa Abeywardena, Sarath Yapa Abeywardena, my son Pasanda Yapa and the house of Danny Hitthatiya. I have been involved in social services for forty years. We are politically, a well established family. I have visited most of the houses in the area. However my son Pasindu does not have connections with these people. He (son) took to politics recently. He was abroad. He could obtain the highest number of preferential votes thanks to me being established in politics.

QDo you have any memories of Madush's early life ?

He was a courageous youth then. He engaged in several jobs to earn a living. He indulged in the sale of dry fish, fire-wood and did various other odd jobs. Once a cousin of Danny Hiththetiya rode a cycle over his foot. This incident triggered a dispute between them also involving another cousin of Danny Hiththetiya. Meanwhile Hiththetiya wanted to take over the land on which Madush and his family were living. This led to a bitter dispute between the two parties. However after Hiththetiya came to his house and threatened him he had left the land. Later he had lived in Negombo. While living there he had been convicted of charges relating to a murder and served a jail term. After his leaving the village I did not have any connection with him. I remember faintly about a meeting being held at Madush's wife house in 1999.

QWas it a UNP meeting?

Yes, Gayani was then a strong supporter of UNP. She was the Chairperson of the Women's Organisation.

QWeren't you also with the UNP then?

Yes, I was a UNPer and I also attended the meeting held at Gayani's house. All their relatives were UNP. I remember meeting Madush at these events. I cannot recall any connection with him after this period.

QWas he engaged in any of your election campaigns?

Certainly not. He was not in my election campaigns.

QState Minister Nalin Bandara says that Madush had attended the wedding ceremony of your son PC member Pasanda Yapa.

I need not clarify this matter as the same person does not now maintain what he said earlier. He said in a political debate telecast in Derana TV that state Minister Nalin Bandara had all the information about Makandure Madush attending a wedding ceremony of a son of a political leader of the south.

QDidn't he attend?

The same minister says now that he had information that Madush had not attended the wedding as opposed to what he had said earlier. He also said that Madush had prepared to attend the wedding and later had changed plans fearing the intense security measures we had taken.

QHe also alleged about a Defender motorcade escorting Madush to Katunayaka?

Yes he has said so. I do not use defender vehicles, nor my children. When I was the Minister of Mass Media, the IGP visited my office and changed my security officers deploying the STF for my security on the instruction given by Gotabaya Rajapaksa. This was after considering a possible threat to me from the LTTE at the time. I was also provided with a bulletproof vehicle and a defender. But I didn't accept the defender as villagers dislike these vehicles. Instead I got a Pick Up despite the STF insisting I travel in a defender.

QDo you refuse the charges levelled against you by State Minister Nalin Bandara?

Of course I do. The wedding ceremony was held at Shangri-La Hotel. We had arranged to issue an electronic card to each participant so as to indicate the table number assigned to each guest. When the card was punched it also gave information of other guests already at the table. The President, Prime Minister, former President, the Speaker and a large number of invitees including ministers and MPs, three DIGs, the Secretary of Defence and the minister in charge of police attended the wedding. In that case the security net the state minister is referring to must be wonderful.

QWere there any invitees from Makandura?

Very few. There were about 25 from Makandura. Most were from other places. I explained the real situation. The others were from far away places. Why distort the story character assassinate others? If someone does so, this person deserves repercussions as mentioned in The Dhammapada. Accordingly those who inflict pain and suffering on innocent and harmless persons will have to undergo cruel suffering, bodily harassment, loss of wealth, be severely accused, lose their minds, suffer misfortunes inflicted by rulers and suffer the loss of relations. Finally they would definitely suffer in hell.

QThere is a saying 'there is no smoke without a fire'.

That is so, but in this case Madush happened be known as Makandure Madush. His first name is the village where we live in. This is the only factor. Some are trying to induce people to believe that there is a connection between our village and Madush who is always known as Makandure Madush. There are several generations of the Wijethunge family. There are a few more traditional families and these families have relationship with each others. There are also others who are not relations. This is the village of all of us.

You can ask anybody in our village whether Laksman Yapa is involved in any wrong doings. The answer will definitely be 'No'. I have the assurance of the people about our good name. We have done nothing harmful to the people. Even Madush has not done any harm to the people in the village.
The same minister says now that he had information that Madush had not attended the wedding

I didn't accept the defender as villagers dislike these vehicles

Madush has not done any harm to the people in the village

An honest politician does not need their help to win an election

QHowever his name was linked with the killing of Danny Hiththetiya.

There was some talk, but he was in prison and he had planned the killing while being behind bars.He has done nothing harmful to the village nor engage in extortion.

QSome are of the view that it is very difficult to win an election without having help from underworld gangs.

An honest politician does not need their help to win an election. I firmly believe in this.

QSome politicians openly obtain the help of underworld gangs. Is it not so?

If one is a stupid politician and is involved in anti-social activities such a person will have to rely on the underworld. If not their help is immaterial.

QThere are allegations against some politicians making efforts to rescue Madush.

Allegations of this nature are not appropriate. They must make allegations against specific persons using the relevant evidence. If there is any difficulty in doing so they can present their allegations in the Parliament.

They cannot be brought before the courts when utterances are made in parliament. They can expect explanations regarding their allegations in the Parliament. Allegations against me have been made because I live in the same village.

QWho is the person with a diplomatic passport among those detained in Dubai?

It is false. The relevant minister said so in Parliament.

QDo you think the name of your son is entangled with the name of Madush by any chance?

Certainly, it is a grave allegation against him. I have seen Madush. But my son has never seen him. He lived in Australia and is of good character. He is also a vegetarian and has a good knowledge of religion. I have three sons. My elder son studied in England and afterwards went to Australia for further studies. Now he works as the managing director of an Indian Company which has a branch in Sri Lanka. He is married and has a child. The second son is Pasanda. He has two degrees and is now preparing for his doctorate. He took to politics in 2014 on his own. At the PC elections he emerged as the first in the Matara District. He is not a person having any connections with those involved in anti-social work and never encourages such persons. It is a crime to associate his name with these things. My third son is also married and is employed in John Keells.

Pasanda is well-known among people. Ignorant individuals who sling mud at innocent people will have to suffer in hell, according to The Dhammapada. We are watching over them.