---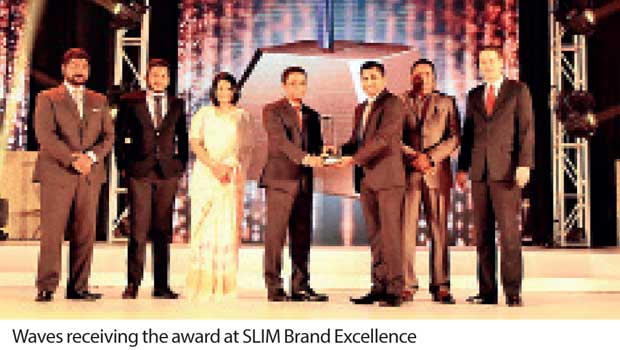 Waves, Sri Lanka's only natural flip-flops, won the Merit award for 'The Innovative Brand of the Year', for its novel concept 'Make your own Waves', at the recently concluded 16th SLIM Brand Excellence Awards.

Nominated from among 12 contestants in a highly competitive category the campaign was a first in Sri Lanka. Echoing the brand's unique and innovative identity, it was launched in October 2016.

Make your own Waves was a concept which focused on the ever strong ideology of 'identity' and highlighted the values that drive youth to create their own space; uniqueness, customisation, choices and personality. The campaign encouraged customers to build and showcase their personal creativity and taste by allowing them to forge their own flip-flop. A wide range of soles and straps were available to choose from and customers could mix and match to suit their taste. The mobile workshop enabled customers to literally produce the flip-flop of your choice.

The execution of the campaign was made more exciting with the mobile store and workshop which came in the guise of a colourful modified Volkswagen (VW) Kombi. The brightly painted van stood out wherever it went, yet again emphasising the creation of distinct identity, just like Waves. Transferring the simplicity of a flip-flop into a trendy identity marker, Waves has continued to be innovative in all aspect of its product as well as in its distinct branding.

Created especially for the youth and settling perfectly with the carefree island culture, Waves was a breakthrough in the footwear industry from its very inception. The brand set a fashion trend by making flip-flops a 'cool' fashion accessory.