---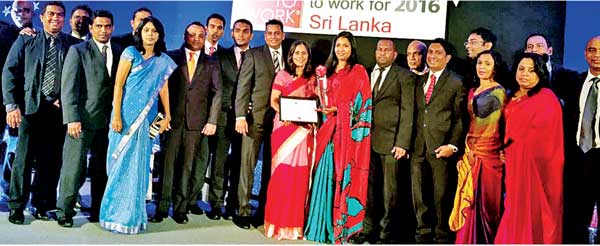 For the second consecutive year, E-W Information Systems, together with EWIS Peripherals have been ranked among Sri Lanka's 25 best companies to work for by the Great Place to Work Institute in partnership with the LMD and Ceylon Chamber of Commerce.

The annual Great Place to Work (GPTW) survey was conducted in 75 companies across 15 diverse business sectors with over 16,000 employees. E-W Information Systems and EWIS Peripherals was among the top 20 companies on the list, scoring high on the dimensions of pride, credibility and camaraderie.

Coming under the EWIS group, these two companies collectively have over 285 employees who are driven by leadership, trust in their employers, show pride in their work and enjoy the camaraderie of their workplace.

Speaking after the event, Chairman Sanjeewa Wickremanayake said, "These companies stress on the value of each employee that collectively comprises a multi-talented workforce that shares a common goal of professionalism and accomplishment."

Wickremanayake added, "For us, retaining talent is not about rupees and cents. We ensure our employees work in an environment that allows for open and frank communication that in turn leads to meaningful outcomes. But more importantly we also ensure our staff is driven by a passion and dedication which is aligned to our vision for the company and country. By laying this foundation, we relate to our employees in a deeper way and are guaranteed of a high retention rate."As a leading IT company, E-W Information Systems enables business transformation for customers through the innovative use of technology. The company has a 30-year track record of success bringing the best people and technologies from around the world to deliver creative, intelligent answers to business issues.

A major milestone in the company's history is the setting up of Sri Lanka's first computer manufacturing plant in partnership with Microsoft Corporation and Intel Corporation, two global giants in the industry. This Original Device Manufacturing (ODM) facility is strongly committed to develop cutting-edge technology in order to generate innovative products under environmental friendly designs. This facility manufactures high-quality personal computers, all-in-one computers, laptops, tablets and smartphones.
EWIS Peripherals is a distributor for leading international hardware brands specializing in Ricoh and Lexmark supplies, services, support
and software.