---

Sri Lanka's highest-selling automobile sensation, Suzuki, initiated a successful training programme for its independent sales agents on March 17, 2017, at Heritage Hotel, Anuradhapura.
Suzuki Maruti India Assistant General Manager Amit Tiwari and Associated Motorways (Private)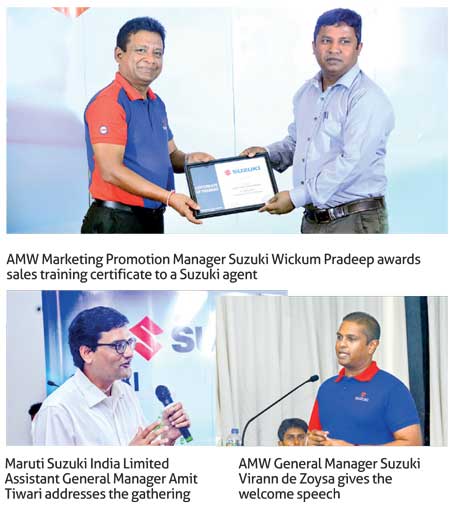 Limited (AMW) General Manager Suzuki Virann de Zoysa were the chief guests of this event.
The independent Suzuki sales agents underwent a comprehensive training session followed by a thorough knowledge of Suzuki vehicles, customer service management and effective methods for customer service visits, during this programme. Suzuki sales agents from the Anuradhapura, Jaffna and Kurunegala Districts took part in this preliminary training programme.
"Our objective is to train our independent Suzuki sales agents in order to extend an exceptional service to Suzuki customers. Expert-level knowledge in Suzuki vehicles along with effective customer service methods is both essential tools for Suzuki sales agents and we were successful in improving the expertise of them in this initial training programme. We are planning to make this training programme an islandwide initiative," de Zoysa emphasized.