---
The South Asian Business Excellence Awards and Partnership Summit are hosted by World HRD Congress and endorsed by Asian Confederation of Businesses.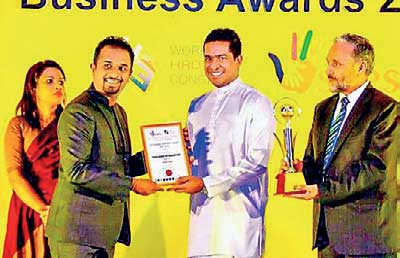 This award honour and celebrate leaders around the region working to strengthen united, increase economic opportunity. The goal of South Asian Partnership Summit is to provide a forum to establish the standards of excellence for quality development and to honour the people and organisations responsible for developing the most effective actions that exemplify that excellence.
The applicants for this award were drawn from all over South Asia such as India, Sri Lanka, Pakistan, Bangladesh, Bhutan, Afghanistan, Nepal and Maldives. After many rounds of selection the jury, which consists of senior leaders, researchers, academicians and corporate heads, have picked Prassanna Pathmanathan from Sri Lanka has the 'Most Outstanding Corporate Trainer' for Soft Skills Development in South Asia for the year 2016.
Pathmanathan, Sri Lanka's most sought after, young corporate trainer have trained more than 100 corporate to date and have trained more than 40 Nationalities around the world. His tri lingual training programs, innovative topics and practical training approaches has made him a thought leader in soft skills training. His personality development, etiquette, grooming, motivational, selling, management skills development programs are very popular among the organizations around the world.
"I feel so privileged receiving this prestigious award and this gives me great recognition for as a corporate trainer and I am sure this will help me to explore new opportunities in training and train many around the world," said Pathmanathan. His company Ultimma Training is one of the leading corporate training firms in the country, which specializes in soft skills and selling programs in and around Sri Lanka.