---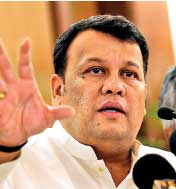 By Zahara Zuhair
Sharing some of the policy decisions his ministry has taken, Skills Development and Vocational Training Minister Mahinda Samarasinghe said it is important to put up an excellent Human Resource (HR) pool required for economic expansion.

He said that the challenge ahead of them is accommodating approximately 370,000 young people who leave after O-Level or A-Level, and try to enter the workforce.
"Out this 150,000 go to traditional universities, vocational training centres. Our challenge is to capture 222,000 and give them the type of skill that would assure them employability. So, this is the challenge that we are having," he said delivering the keynote address at the Sri Lanka Human Capital Summit 2016 held last Friday.

In this context, he said that they have taken certain policy decisions to overcome this challenge. One of the revolutionary policy decision taken recently was the agreement to equalize O-Level to NVQ 3 level and A-Level to NVQ 4 level.

He said that with this new policy decision, those who have obtained NVQ 4 level would be able to enter the university to obtain a degree. "We also have decided to shorten the number of years taken by technology stream students in obtaining a degree," he said.

As a result, he said that technology studies will be popular and they anticipate a significant increase in the demand amongst young people to obtain technical skills and this would capture the 220,000 school leavers who have no skills.

He said that they are in the process of expanding the marine ocean university to make it a prominent university.
Talking about another plan of subscribing to the concept of 'inclusive education' which would be based on the diversity of Sri Lanka, he said that through this they expect to balance gender and ethnic issues.
He also stressed the importance of giving space to differently-able people in the society as they too will be an important arm in the inclusive education system and also having good English communications skills which would break social barriers.

He further said that his ministry will be putting into place four sector skills councils in ICT, manufacturing, construction and hospitality industries.
"We are starting this as a pilot project. We want to start with four. Out of this, we want to expand to other sectors. It's driven by the private sector," he noted.
He also stressed the knowledge of lecturers and instructors should be updated.

"This is one of shortcomings I saw when I took over; they were not exposed to industry standards. With the cooperation of the private sector, we could expose the lecturers and instructors on regular basis, to up their standards. They also will be given the opportunity to see what kind of equipment is used, standards required that would benefit of schools," he explained.