---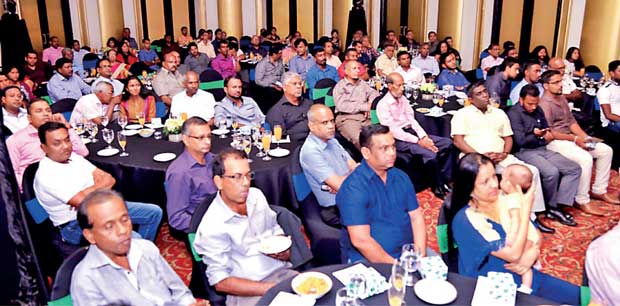 Kelani Cables PLC held its annual dealer convention for Kelani Enameled Wire dealers. The event headed by Kelani Cables PLC Director/CEO Mahinda Saranapala, was held at Taj Samudra Hotel. One hundred and forty dealers from all over the island, who have performed exceptionally well, participated in the event.
It was significant that a speech was made on 'entrepreneurship' by veteran speaker of positive thinking, Dhammika Kalapuge.
Personnel from Kelani Cables at the event were: General Manager Marketing Anil Munasinghe, Deputy General Manager Operations Upul Mahanama, Brand Development Manager Channa Jayasinghe, Sales Manager Exports Devinda Lorensuhewa, Sales Manager Power and Electricity Rohana Wadduwage, Sales Controller Ralph Roshan and Assistant Sales Manager T.N.K. de Silvawith the senior management.
Chief guest Saranapala said the Enameled Wire wing could be treated as the backbone of Kelani Cables PLC.
"Our dealers contribute immensely to the company's forward march. They are the live-wire behind achieving our sales targets year by year. Thus, we treat this friendly get-together as an occasion that adds value to their business success. This is recognition for their commitment," he said.
Munasinghe expressing his views said, "We together walked towards success for many years. It is commendable that the two parties, Kelani Cables PLC and its dealers mutually benefited from this exercise. We never wanted to enjoy the success brought by Enameled Wire dealers alone by ourselves. Your success in this country is our success too. We treated you with a presentation on vital tips to be a successful entrepreneur by a veteran resource person in the island because your success is treasured by us."
Kelani Cables PLC is a 100 percent Sri Lankan company serving the nation for 47 years manufacturing electrical and communication cables. The company achieved 'Super Brands' status in the electrical and telecommunication sector in 2008 for professional supremacy it demonstrated in the electrical and communication cables sphere.
In 2012, Kalanai Cables PLC clinched the Bronze award for the excellent business brand category at the SLIM Brand Excellence. It clinched Gold at the SLIM Brand Excellence once again in 2013 for the same category. The company secured Gold at the SLITAD People Development – 2013 award ceremony for the contribution it has made towards training and development
of the workforce plus up keeping
their welfare.
Kelani Cables PLC is the proud recipient of ISO 9000:2008 certification for quality, ISO 14001:2004 for better environment management, National Standards award and the Gold winner of Taiki Akimoto 5S award.
In 2015, Kelani Cables PLC was conferred with the Asia's Best Employer Brand award. Kelani Cables was recognized for sustainable development at the National Green Awards in 2015. The company bagged the Silver award for the best organisational CSR brand under the B2B brand category at the SLIM Brand Excellence awards in 2015.