---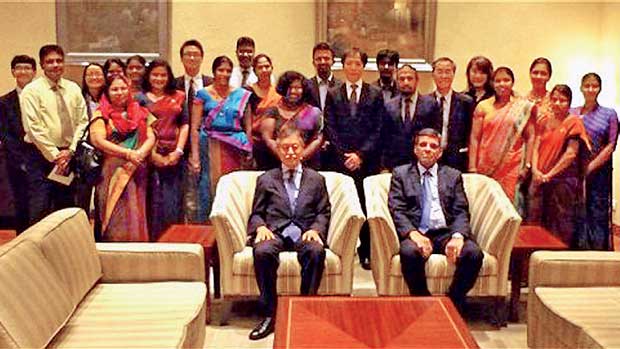 The Japanese government has extended the Japanese Grant Aid for Human Resources Development Scholarship (JDS) programme since 2010 to train and develop the skills of young executive officers in the public sector, hoping them to become future national leaders and contribute to the national development of Sri Lanka, especially in formulating and implementing the national development plans.
Through the JDS programme, 90 public sector officials have been provided the opportunity to pursue a two-year master's degree in the fields of public policy and public finance, economics, business management or environmental management at prominent universities in Japan.
Japanese Ambassador to Sri Lanka Kenichi Suganuma hosted the reception at his residence recently, inviting the returned JDS scholarship fellows to welcome them and the senior government officials in recognition of their support extended for the successful implementation of the JDS programme.
The ambassador at the reception stated that the government of Japan expects the JDS fellows to exercise their leaderships in the development of Sri Lanka with academic knowledge and experiences acquired in Japan and to contribute further strengthening bilateral relationships between Japan and
Sri Lanka.