---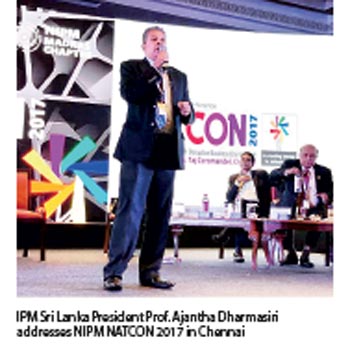 IPM Sri Lanka President Prof. Ajantha Dharmasiri was invited as a distinguished guest and speaker at India's annual national HR conference, NATCON 2107, held in Chennai, India recently.

The theme of the event, which was organised by the National Institute of Personnel Management (NIPM) of India, was 'HR positioning in current disruptive business environment'. In line with this theme, Prof. Dharmasiri shared his knowledge and expertise on the local and global aspects of 'Engaging employees in a disruptive environment'. An eight-member delegation comprising the members of IPM accompanied Prof. Dharmasiri as part of the bilateral exchange and cooperation programme that exists between IPM Sri Lanka and NIPM India.

"IPM Sri Lanka has been successful in establishing an excellent relationship with its counterpart in India for mutual benefit. The bilateral exchange and cooperation programme between IPM Sri Lanka and NIPM India helps to provide valuable exposure while opening up avenues and opportunities for knowledge sharing and networking for members of both institutes. Sharing of knowledge, expertise and experiences between two regional think tanks would no doubt add value to local knowledge in driving vital policy actions and decisions in better engaging employees in a disruptive social and business environment," said Prof. Dharmasiri.

Describing employee engagement as an umbrella term encompassing many related concepts, Prof. Dharmasiri emphasized the need for employee engagement for organisational success, while drawing upon global trends, which reveal the need for it. Disruptive technologies drive digital initiatives in diverse fields and people-centric human resource management functions need to embrace the resultant disruptive change by adapting strategies or by innovating new ones so as to ensure that people are empowered to be fast, focused and flexible in order to take on-the-spot decisions based on situational realities.

"Employee engagement should by no means confine the employees to the workplace, depriving them of their family and social obligations. In research literature, higher job security, increased social support and the existence of family-friendly policies have been shown to reduce the incidence of work-family conflict. Whilst striving for employee engagement, ensuring a proper balancing of other aspects needs careful consideration," he added.

He further stated that NATCON 2017 was a significant thought-sharing event on disruption and its associated implications to HR.