---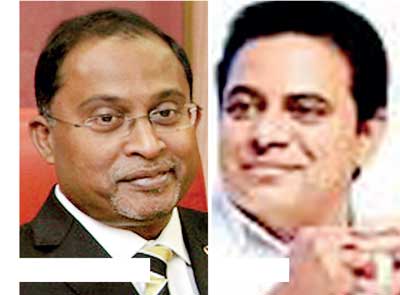 Dr. Abdul Kadir, the Chief Minister of Perak State, Malaysia and Shri K. T Rama Rao, Minister for IT and Urban Development, Government of Telangana are among a host of high profile speakers who will address the Sri Lanka Human Capital Summit that is to be held in Colombo next month.

The Sri Lanka Human Capital Summit is expected to bring together a host of experts from the region and will be held on the 11th and 12th of August at the Taj Samudra Hotel in Colombo.

Prime Minister Ranil Wickremesinghe will inaugurate the summit and will speak on 'Sri Lanka as a Talent Capital'. Minister Shri K T Rama Rao will talk about 'Building a future ready workforce – the Indian experience' while Dr. Zambry Abdul Kadir, Chief Minister, State of Perak, Malaysia will focus on 'Human Capital Development as a key driver for inclusive & Sustainable Development - the Malaysian experience'.

Dr. Zambry Abdul Kadir was appointed as the 11th Chief Minister of Perak, a state in West Malaysia, in 2009. His academic background includes a PhD in Political Thought from Temple University, Pennsylvania and a Master's Degree in Political Philosophy and Comparative Religion, also from Temple University.

Dr. Zambry's academic specialization includes political economy, political thought, Southeast Asian contemporary politics, Malaysian politics and Islamic political thought. In addition to his political duties and responsibilities, he also currently serves as an Adjunct Professor in the Political Science Faculty at the International Islamic University, Malaysia.

Minister Sri Kalvakuntla Taraka Rama Rao, Cabinet Minister for IT, E&C, MAUD, Industries & Commerce, Mines & Geology, Public Enterprises and NRI Affairs has been representing Sircilla Assembly Constituency since 2009. Sri K.T. Rama Rao has a Bachelor's Degree in Microbiology from Nizam College, Hyderabad. He has two post-graduate degrees – M.Sc. in Biotechnology from University of Pune and the other is MBA in Marketing and E-Commerce from Baruch College-City, University of New York. After completing his MBA, Sri K.T. Rama Rao worked as an IT Professional for six years from 2001 to 2006. As the IT Minister, Sri K.T. Rama Rao has launched several initiatives to address the needs of the IT industry.