---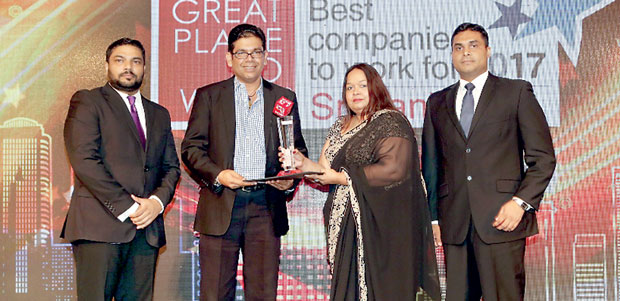 From left: Softlogic Life Insurance PLC Chief Corporate Services Officer Thilanka Kiriporuwa; Huawei Sri Lanka Deputy Chief Executive Officer Vasabha Bulathsinhala; Softlogic Holdings PLC Group Human Capital and Taxation Director Natasha Fonseka; and Softlogic Life Insurance PLC Human Resources Head Indika Bamunusinghe
Considering the public attitude towards insurance and the lukewarm reception that many have towards an insurance proposition, it is an industry that is deserving of a higher position - both as a service and a career option. Millennials, who are digital natives and enterprise thinkers especially, are looking at tech companies, multinationals and lifestyle brands to cater to their needs. Softlogic Life has been transforming the way people have been looking at insurance both as customers and employees. What is striking about the company is its ability to attract key talent from the most unlikely of industries such as FMCG, fashion, tech, and banking and even from some of the multinational giants in the world. Softlogic Life Marketing Head Nuwan Widyapthige speaks about how Softlogic Life has transformed to become a lifestyle brand and a valuable employer brand in an industry that is perceived by many as challenging and demanding to work in.
Softlogic Life has been able to attract key talent from different industries and companies to work for the company. Apart from that, employee morale and enthusiasm seems very high. What is the simple strategy behind this success?

For many years, our strategy has been very simple - the way our employees feel is the way our customers will feel. This can be only achieved through our workforce who play an integral part in our success.

Our constant endeavour is to attract, invest in, develop and retain the best talent in the country. We have challenged the status quo by going after talent from diverse industry spaces which has enabled us to add fresh perspective to the way we do business. We have developed policies and guidelines for talent management, recruitment, remuneration, training, skills development, and employment equity. We have always offered best in class facilities to our people. One such example is the entire top management team undergoing a leadership development program conducted by renowned US based leadership coach Doug Adams. Our philosophy and culture of knowledge and learning has made the company transform from a traditional insurance company to a company which operates like an innovative tech start up. We have built a great employee engagement model with the ultimate objective of creating a productive and innovative workforce by caring for their wellness and live employee life to the fullest.

We have made good progress in fostering a dynamic work culture that encourages our employees to rise to their true potential and one that attracts the best talent in the country. Also being part of Softlogic Group, one of the most dynamic conglomerates in the country, helps us to bring more value to our brand name.

For the second consecutive year, Softlogic Life has been chosen as one of the top 25 great places to work in Sri Lanka by the Great Place to Work Institute. What have been some of the key points on becoming a differentiator in the life insurance sector – a tough industry to attract and retain employees?

At Softlogic Life, we believe in harnessing the full potential of our employees as a critical driver of our business success in delivering a superior client experience while sustaining happiness and wellness of our employees. Our vision and values guide our efforts to create a supportive work environment to 'live life to the fullest'.

We are committed to driving a culture where our people feel valued, have a clear sense of belonging, know what is expected of them and are recognized and rewarded for their contribution towards achieving our ambition to place our clients at the center of everything we do. Current and future trends, ranging from digitalization to working with a multigenerational workforce, are influencing how we shape our people, leadership and engagement strategies.

As the fastest-growing insurance company in Sri Lanka, Softlogic Life adds more colour to the lives of Sri Lankans through the strategic campaign of 'Choose your Life', which complements Softlogic Life's overall strategic directive of 'an enabler of wellbeing'. How has this shaped up the company to become a great place to work?

Like it encourages our customers to enjoy their life by opting for a healthy and fulfilling lifestyle, 'Choose your Life' reminds all of our employees that it treads a path for them, ensuring their health and wellbeing at all times. This thinking has enabled our employees to further drive our success.We always strive to ensure the safety and health of all who work for us and a simple choice made by an employee to choose their life choices wisely will make a drastic change to the way they think. That makes Softlogic Life a more people-centric organization in Sri Lanka.

Our understanding of the importance of building diverse talent and striving to create an environment where our employees have successful work, life integration, resources to achieve their goals and a culture of opportunity, has paid off again with this special recognition.