---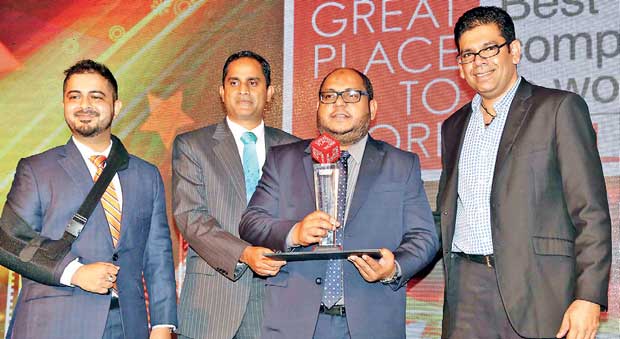 EFL recognised as a Great Place to Work for the second consecutive year. Managing Director Saif Yusoof, Director Gaazali Arifeen and Director Ashker Laffir receive the award from Huawei Sri Lanka Deputy CEO Vasabha Bulathsinhala (Platinum Sponsor)
Expolanka Freight [EFL] and Classic Travel have been listed as Great Places to Work in Sri Lanka this year.

This is the second and third consecutive occasions (respectively) that the two leading brands of the Expo Group have been recognized by the prestigious index, which collates and ranks the world's best workspaces and most coveted employers.

Much like their peers on the annual Great Place to Work Index, EFL and Classic Travel are industry leaders and trendsetters with a track record of providing exciting, challenging and supportive spaces for employees to thrive in. Both were ranked in last year's top 25 in the Great Place to Work Sri Lanka index, with Classic Travel also receiving a Bronze in the Small Size Enterprise category for the second consecutive year.

EFL is a logistics and supply chain management solutions provider headquartered in Colombo with operations in four continents and 59 offices around the world. It employs over 2000 staff in Asia, the Middle East, Africa and the US. In Sri Lanka, EFL employs over 800 staff based at its Colombo headquarters and logistics centers in the city. Some of the benefits for the employees include flexible working hours, daily meals, gymnasium facilities and world class learning experiences at the state of the art auditorium. The company is determined to develop the next generation of logistics specialists to meet a rising demand for the supply chain management solutions across the globe.

EFL was also awarded the Best Video under the 'We love our workplace' Facebook video contest conducted by Great Place to Work – Sri Lanka. The selection process included the top five videos with the highest 'Like' counts being shortlisted for review by a panel of judges that chose EFL as the winner.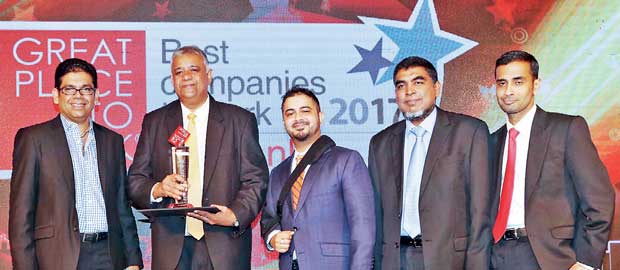 Classic Travel recognised as a Great Place to Work for the third consecutive year. Huawei Sri Lanka Deputy CEO Vasabha Bulathsinhala (Platinum Sponsor) presents the award to CEO Suresh Mendis, Managing Director Saif Yusoof, COO Shiham Immamuddin and Classic Travel General Manager Sabry Bahaudeen.
"As the industry evolves and the career landscape changes, we have increased our efforts to nurture a respectful and inclusive culture here at EFL and Classic Travel," says Saif Yusoof, Managing Director for both companies. "We're interested in the dynamics of experience and fresh perspective-walk into any of our offices and you'll find that there's a real diversity in terms of age and experience. Our businesses are all about relationships and connections and that can only be really achieved when people feel empowered and enjoy the work they do.