---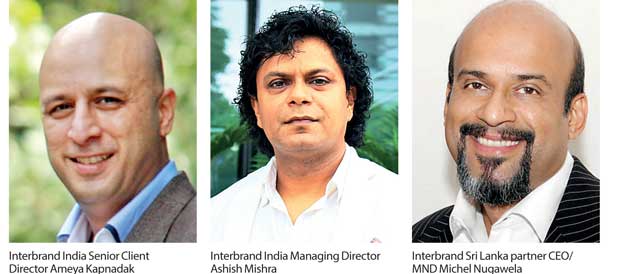 Interbrand, the world's largest and most influential brand consultancy, has begun the repositioning and corporate branding of top conglomerate Dimo.

Dimo's portfolio of motor and engineering products and services across diversified sectors includes passenger and commercial vehicles, medical equipment, agricultural machinery, road development and construction, building management systems, marine services and ship repairs, lighting and power distribution, and material handling and warehouse management.

"We're pleased to expand our presence in the Sri Lankan market and deploy our value-based processes for Dimo," said Interbrand India Managing Director Ashish Mishra. "Interbrand sees brands as living business assets that can grow businesses if they are managed across touchpoints. As global competition becomes tougher and competitive advantages like technology become more short-lived, the brand's contribution to shareholder value will only increase. Brands are one of the few business assets that can provide long-term competitive advantage. What makes Interbrand the ideal long-term partner for the leading brands in Sri Lanka and the world is our experience and expertise in growing businesses and managing the Best Global Brands."

Working together with Dimo, Interbrand will deploy their globally-renowned processes, including Brand Strength and Role of Brand Index, to provide strategic branding recommendations in positioning, architecture, and corporate identity. The project will include research and analytics to understand the unmet needs and opportunities related to the Dimo masterbrand and sub-brands and its customers; strategy that defines the purpose, identity, and role of brands to create differentiation and value for the conglomerate; and internal engagement that brings the brand experience to market and strengthens internal marketing and brand management capabilities.

"Interbrand's processes have been specifically designed to take the drivers of economic value into account," said Interbrand India Senior Client Director Ameya Kapnadak. "While role of brand analysis helps brand managers understand purchase behaviour and the brand's ability to drive choice and generate demand, brand strength measures its ability to sustain the demand, engender loyalty and ultimately reduce risk. These processes introduce a common set of metrics across the organization and ensure that different parts of the organizations view the brand through the same lens. They have delivered results for the Best Global Brands and we are looking forward to running them
with Dimo."

Interbrand Sri Lanka partner CEO/MND Michel Nugawela stated that Interbrand's value-based approach was of special interest to Sri Lanka's leading brands as it offered a robust, evidence-based and data-driven methodology to manage and govern brands. "We will be introducing Interbrand's Best Sri Lankan Brands league table shortly which is based on Best Global Brands and the world's gold standard in brand valuation. Through this, we are continuing to raise the bar of brand management in Sri Lanka."

Established in 1974 and an opinion leader in the field of value-based brand management, Interbrand was the first brand consultancy to recognize the significance of a brand as a business asset and introduce the brand valuation concept and methodology. Interbrand's annual Best Global Brands report, the definitive guide to the world's 100 most valuable brands and now in its 18th year, valuates each brand's financial performance, role and strength through a five-step economic value added methodology which is also the first of its kind to be ISO certified.

Interbrand created the first Korean Top 100 brand, Samsung, by introducing the brand value concept to the conglomerate and propelling it to the 6th most valuable brand ranking in the Best Global Brands table, worth over US$56bn in 2017. With a network of over 33 offices in 27 countries, Interbrand's combination of rigorous strategy, analytics, and world-class design enables it to assist clients in creating and managing brand value effectively, across all touchpoints, in all market dynamics.