---
Melanie Kanaka (FCMA, CGMA; B.Com (Hons.) and MBA (US)), Head of Finance and Administration of the World Bank for Sri Lanka and the Maldives, creates history by being the first Asian lady to be invited to serve on the CIMA Council, the global governing body of the Chartered Institute of Management Accountants, for a second time.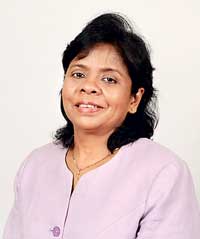 Kanaka is a Fulbright Scholar who holds an MBA from the Emory University USA, specializing in international finance and corporate strategy. She is an accredited SAP consultant and a fellow member of the Chartered Institute of Management Accountants - CIMA (UK) with a 28-year career in accounting, finance, treasury, SAP, strategy and general management.
She is an alumni of the University of Sri Jayewardenepura, where she obtained her B.Com. (Hons.) first class, securing the highest aggregate and is a distinguished past pupil of Bishop's College, Colombo.
She has corporate experience in finance, SAP manufacturing and development banking across the USA, Germany and South Asia. Her corporate exposure has been at Bellsouth (USA), SJMS Associates, DFCC Bank, Hayleys Group, MAS Holdings, Rapier Consulting and currently at the World Bank.
Kanaka presently serves as Chairman of the Audit Committee of the Sri Lanka Family Planning Association and is a Non-Executive Director on its National Council. She is a former Sri Lankan national swimmer, who had the rare distinction of officiating at the Centennial Olympic Games in Atlanta, USA.
Kanaka has been invited by the CIMA Council to serve on the global governing body of the institute for a second three-year term from 2017 to 2020 as a Co-opted Member. Her appointment from the Global Institute will be effective from the AGM on June 2, 2017.
Her first term on the Global Council was from 2013 to 2016 as an elected member for South Asia (Area 14) during which period she served on the CIMA policy committees of Lifelong Learning, Member services and Appointments in the UK. Her invitation to the council as a coopted member is a result of her significant contributions to the profession over many years.
She has a long and committed association with CIMA, having served internationally on the institute's Membership Board, the Technical policy committee and has been a CIMA Membership Assessor for close to a decade leading membership conversion workshops and mentoring the fraternity for membership. She currently serves on the institute's Membership Panel.
Over the past years, Melanie has made an iconic contribution to CIMA Sri Lanka. Having served the institute with unstinted commitment and dedication, her passion had been member engagement and development of the CIMA fraternity. She has served in and chaired numerous CIMA committees and led many innovative initiatives for CIMA students and the
member fraternity.
Kanaka served on the Sri Lanka Divisional Council for nine years, the Sri Lanka Board for five years and was a former CIMA Sri Lanka Divisional
Vice President.