---
Under strict health and security guidelines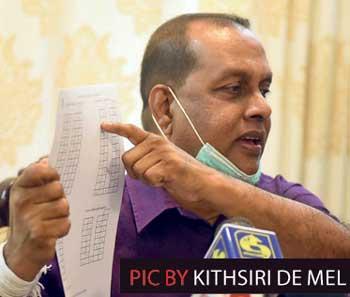 By Sandun A. Jayasekera

The Transport Ministry would provide transport facilities to 20% of public servants to attend to their work places safely from today and to 50% from Wednesday but strictly on the health and security guidelines, following the relaxation of curfew for 15 hours today in 18 districts and on Wednesday in seven districts, a minister said.
Power, Energy and Commuter Transport Management Minister Mahinda Amaraweera addressing a hastily convened news briefing at his residence last afternoon said SLTB and private buses would be allowed to take only one passenger per seat to keep a distance in a zigzag pattern and a token will also be issued to each bus passenger to ensure he attends to his office for essential duty. He or she will have to produce the token on the return journey home.

The SLTB would deploy 4,400 buses and 400 train services will be in operation by Wednesday for passengers attending to essential services and factories but there will be inter-provincial bus services.

In trains, passengers can use their March season ticket to come to office in Colombo as the Heads of Departments have been instructed to call only the employees who reside in proximity to the city. All bus and train commuters will be strictly instructed on safety measures outlined by the Health authorities like wearing a mask, regularly cleaning hands, keeping a safe distance from each other and use coins when purchasing tickets etc.

Hand washing and disinfection facilities have been provided at railway stations and bus terminals and bus stands for passengers. "Please don't think the relaxation of the curfew as an opportunity given to go on picnics, to have New Year trips or pilgrimages. The main objective of the lifting of the curfew is to restart the production drive that had been at a standstill for nearly a month.
Sri Lanka has shown big progress in combating the COVID-19 and the government wants to conclude this struggle successfully as early as possible. To do that public support is extremely vital. The government intends to resume the agriculture, industrial, fisheries and all other sectors in full gear with the lifting of the curfew fully island-wide.
The government also wants to restart the economy with new vigour as right now there is no investment or remittances coming in from expatriate Sri Lankans and the economy is in dire straits. But if we use the outcome of the COVID-19 to our advantage, that would be a blessing to Sri Lanka," Minister Amaraweera stressed.
He added that the lifting of the curfew and the eradication of the viral infections would be decided by the support given by the people by adhering to the health and security instructions of the health authorities' and the Police and Armed Forces.