---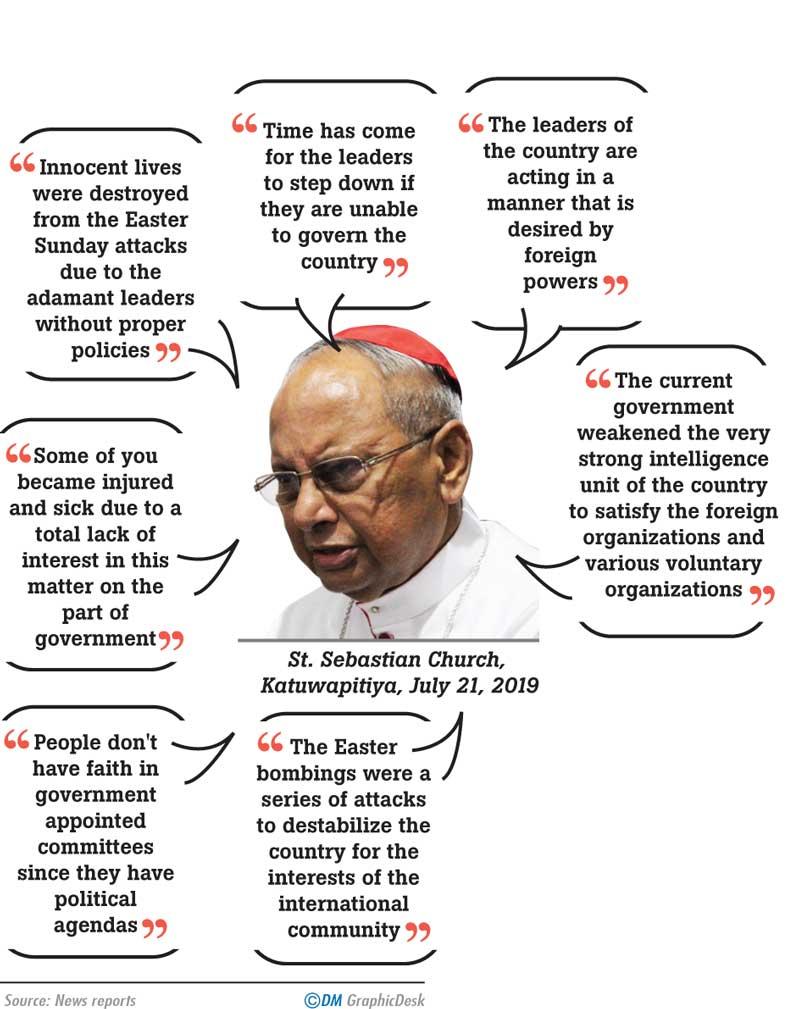 By Yohan Perera
Archbishop of Colombo Cardinal Malcolm Ranjith said yesterday that he will not meet any Presidential candidate if justice is not meted out to Easter Sunday bomb victims.
Addressing a media briefing, the Archbishop said in his statement that the country's rulers did not have a backbone was not directed at any particular politician.

"I cannot help if President Maithripala Sirisena took it on him, the statement I made at a recent service at the Katuwapitiya Church," he said.

"I only expressed the feelings of Easter Sunday bomb victims. What they want is to find out who was behind the attacks and who backed the terror group, that carried out the gruesome attacks. They also want to know as to who supported the terror group," the Cardinal told a press conference last morning.

"The Government had failed to do justice to victims by not being able to carry out a proper investigation on the attacks, while the Opposition is trying to score points politically using the Easter Sunday Bomb victims. "I will not meet any Presidential Candidate unless justice is done to the victims" he added. He said President, Prime Minister and Leader of Opposition should get together and appoint a Commission that should comprise persons without any political affiliation to probe the attack. "This Committee should reveal everything to people" he expressed.

" We are not satisfied with the Parliamentary Select Committee which is currently probing the attacks, as it represents many political parties" he said.

"I am not aware whether anyone had lodged complaints against me with Pope Francis, but the Pontiff told me to carry on with the work I am currently doing and be with the people. No one would gain anything by lodging complaints against me with Vatican".

"The vision of the Catholic Church is that the religious leaders should talk about the issues faced by the society and the people, and that is exactly what I am doing right now. Please do not paste any political stripes on me as I don't belong to any political party" Cardinal Ranjith added.
We are not satisfied with the Parliamentary Select Committee which is currently probing the attacks, as it represents many political parties