---
Will take another six months to get the vaccine
Cost of a vaccine ranges between Rs.1,500 to 4,500
Vaccine has to be given to a person once every year or more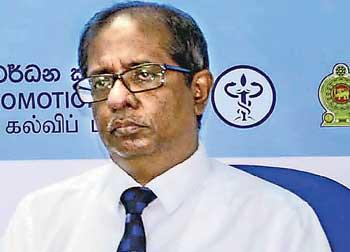 By Sheain Fernandopulle
As the talks on a vaccine against COVID-19 are in the spotlight around the world, Chief Epidemiologist Dr. Sudath Samaraweera said Sri Lanka cannot keep the faith on vaccines alone considering the time period of its availability, the cost and several other factors.
Addressing the media, he said in a pandemic of this nature, the priority should be given to curb the spread of the virus and added that the vaccine was only one method of containing the virus.
"Still the vaccine is under research and therefore it will take at least another six months to get the vaccine," Dr Samaraweera said.
He said though a set of vaccine kits would be given to Sri Lanka as a grant when it is available, the rest of the required vaccine kits would have to be purchased by the government, which could be costly.
"According to the prices available at present, the cost of a vaccine would range between Rs. 1,500 to Rs. 4,500, he added.

Epidemiology Chief also said according to the studies so far conducted on the vaccine, the immunity would last only for a period of one and half years following the initial dose of the vaccine. Therefore, the vaccine has to be given to a person once every year or more.

Moreover, he said there would create a high demand for the vaccine and no company would be able to meet the demand all of a sudden. Hence, it takes time. "At the same time, there is a possibility that a powerful country would purchase a higher number of vaccine kits creating a shortage."

"In order to prevent this from happening, the World Health Organisation has prepared a mechanism to fairly distribute the vaccine kits among countries," he added.
studies so far conducted on the vaccine shows the immunity would last only for a period of one and half years following the initial dose of the vaccine
priority should be given to curb the spread of the virus and added that the vaccine was only one method of containing the virus