---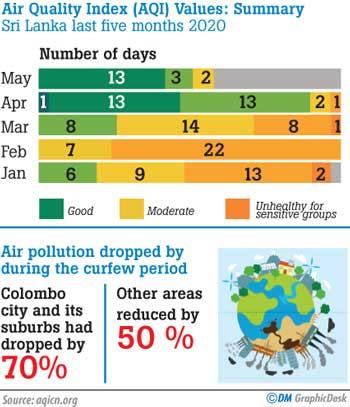 By Sheain Fernandopulle
The air quality in Colombo has deteriorated with curfew being relaxed, said H.D.S. Premasiri, Senior Scientist of the Air Quality Unit at the National Building Research Organisation (NBRO).
Speaking to Daily Mirror, he said the reason for air quality to aggravate was resumption of work from last Monday, which saw the gradual increase in vehicular movement and industrial activity.

"Currently, the Air Quality Index (AQI) stands at a moderate level of around 60 in Colombo. During the two-month-long curfew period, air quality retained a 'good' level with air pollution in Colombo and its suburbs plummeting by 70% and in other areas by 50%. It was after 20 years that air pollution in Colombo consistently dropped to such a low,"
he said.
Currently, the Air Quality Index (AQI) stands at a moderate level of around 60 in Colombo