---
By Aneesha Manage
Two accomplices of apprehended underworld leader Makandure Madush have been arrested by Tangalle Division Crime Investigation Unit in Sooriyawewa with T-56 rifles, live cartridges and heroin yesterday.
According to the officers, those who were arrested were a resident of Matara Thelijjawila area named Hettiarachchige Asela Eranga alias Hesha (23) and a resident in Matara Meddawatta area named Meddawattage Nalaka.

The police said that it has been revealed that the two suspects who were arrested had direct connections with the underworld leader Makandure Madush.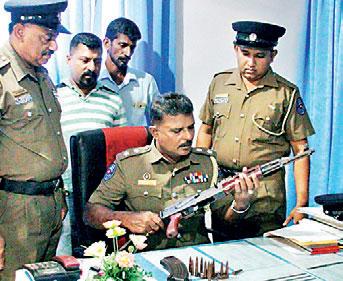 The suspect who was infamous in a nickname Hesha had a T-56 automatic fire arm made in a foreign country and a magazine with 20 live cartridges according to the police. This firearm had been taken into custody at 9.30am at Sooriyawewa Padalangala Crossroad Junction while it was being taken to the house of the father of Madush in Sooriyawewa, Welioluara area when they got the information that Madush was arrested In Dubai. It had been hidden in Telijjawila area in Matara.

The officers of the Tangalle Division Crime Investigation Unit said that investigations are being launched to identify persons who had used these T-56 rifles and to arrest them with the information received from Tangalle Division OIC SP Laksiri Geethal.

The other person who was arrested by the police on Saturday (9), named Meddawattage Nalaka had 2 grammes of heroin in his possession. The officers said that he had been issued two warrants regarding heroin and a warrant issued for aiding and abetting murderers. The suspect had been arrested on a secret call received by OIC police IP E.B.Dayananda in the Tangalle Division Crime Investigation Unit. A team of police officers are investigating under the directions of Tangalle and Matara Divisions OIC DIG Wijitha Gunaratha and Tangalle Divison OIC SP Laksiri Geethal.