---
Former Premier stresses importance of history at book launch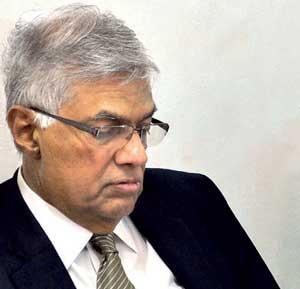 By Yohan Perera
UNP leader Ranil Wickremesinghe yesterday urged the government to take quick legal action against those responsible for the recent destruction of the Assembly Hall of King Buwanekabahu in Kurunegala.
Mr. Wickremesinghe stressed for such action at the launch of the book 'Totagamuwe Gunawardene Wickremesinghe Parapura' penned by Somadasa Abeywickrama in Colombo yesterday.
"It is good to know the history. We have seen the importance of history today. If one understood the value of history the Assembly Hall of King Buwanekabahu II would not have been destroyed. Those who destroyed it did not know the value of it. Those in the Department of Archeology would have become more active on the incident had it known the value of it. Action is delayed on the matter. It is important to investigate and determine who is responsible for it. I don't know whether a case would be filed against King Buwanekabahu 11 for constructing an assembly hall or whether legal action would be taken against those who destroyed it. We hope that legal action should be taken against those responsible soon," Mr. Wickremesinghe said.

"Totagamuwa was a port even before the time of Venerable Rahula Thera. Items such as Cinnamon was transported from Totagamuwa in the past.. The Wijayaba Pirivena has also contributed to the popularity of this area. The temple was a popular education institute. Traces of rich history of the area were lost during the Portuguese era. There are a number of famous families in the area. Books such as Totagamuwe Gunwaradene Wickremesinghe Parapura' is important. When we study local history we acquire knowledge on national history,"
Wijayaba Piriwena is a centre of politics in the past. Those who backed Prince Sapumal were against those who defended the pirivena and the king. There was politics during that time as well.