---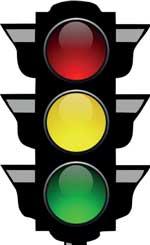 By Darshana Sanjeewa Balasuriya
A survey for updates on all traffic light signals would be carried out aiming to reduce traffic congestion in Colombo, Traffic and Road Safety Director SSP Indika Hapugoda said.
He said the joint survey would be carried out by the Sri Lanka Police, Road Development Authority and the Colombo Municipal Council (CMC).

"The green signal countdown time on traffic lights will be increased on roads where most vehicles were travelling while the countdown time will be reduced when there were fewer vehicles, following the survey," he said.
He said the traffic light system on many roads were installed with a large amount of government expense and that those systems need to be implemented properly. "Over 8,000 traffic police officers who are on traffic duties could be deployed for duties," he said.

Meanwhile, the SSP said that the traffic lane law, which was implemented on September 14, would be strictly imposed, commencing yesterday. He said the drivers who violate the lane law were not fined during the first
two weeks.

He further said legal action would be taken against motorists who drive zig-zag between lanes.
He said at least 1,200 drivers who had violated the traffic lane law were identified using Sri Lanka Air Force Drones and CCTV cameras and were summoned to the Field Force Headquarters of the Police on Saturday to educate on the importance of following the traffic law.
At least 1,200 drivers who had violated the traffic lane law were identified using Sri Lanka Air Force Drones and CCTV cameras and were summoned to the Field Force Headquarters of the Police