---
Those taking immunosuppressed drugs will not receive jabs
No one below 30 allowed to register now
No one from outside Colombo should visit a centre
Aims to vaccinate 450,000 citizens in Colombo soon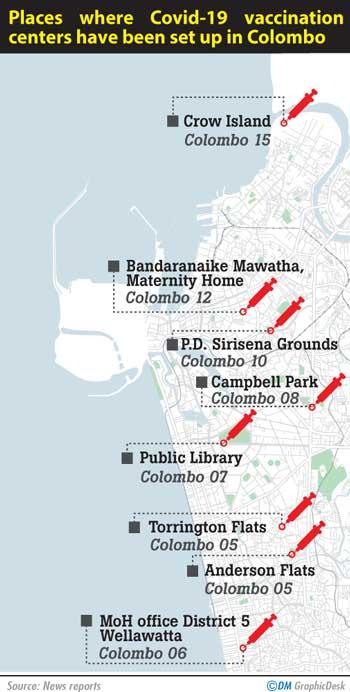 By JAMILA HUSAIN
The medical team of the Colombo Municipal Council (CMC) in collaboration with the Health Ministry, have set up six vaccination centres in Colombo for the public to receive the anti COVID-19 jabs which rolled out into the public from early last week.
According to CMC Chief Medical Officer Dr. Ruwan Wijemuni, the centres have been set up in Crow Island in Colombo North, Bandaranaike Mawatha Maternity Home in Central Colombo 2A area, the P.D. Sirisena Grounds in Maligawatte in Central Colombo 2B area, in Borella it is set up in Campbell Park and Public Library, Colombo 07, in Colombo East in Torrington Flats and Anderson Flats and in Colombo West it is set up in the MoH office District 5.
Yesterday alone, 7,000 people were inoculated with the Astra Zeneca jabs in these centres and the vaccination programme will continue till such time the vaccines are available. Dr. Wijemuni said his team aimed to inoculate 450,000 people in Colombo as soon as possible but the jabs presently would not be available for those below 30 years.

He said people were required to contact their area MoH officer or PHI office and register for the vaccines by giving in their name, address and phone number. Those who are unable to register have been advised to go to their nearest centre, provide an identification and await their turn to receive the jab. People who are visiting the centre must have their respective addresses in that MoH area and no one from outside Colombo will be given the vaccination. There is a very well planned system in place, Dr. Wijemuni said.

The vaccines will not be given to lactating mothers, pregnant women, those suffering from cancer, kidney failure or any types of kidney disease and those taking any immunosuppressive drugs. "They will not receive the vaccine because they have the tendency to develop the full blown COVID with this. We are doing a very thorough screening. When people come to the centre, we give them a form for them to fill up and acknowledge if they have any of those underlying conditions and allergies and we go through their allergic history and only then we administer the vaccine,Dr. Wijemuni said.

He said the centres presently set up will also change, to enable medical officers to provide a door step service to the citizens.

Presently medical officers are concentrating on areas where the number of COVID-19 cases reported were less in the first and second wave. Those who have already recovered after being infected with the virus have developed the antibodies which is why it was now important to administer the vaccines to those who have not been affected by the virus.

Dr. Wijemuni said it was crucial that those in Colombo receive the jab first as it was a hot spot for the virus. "If we can administer 450,000 doses for the population residing in Colombo, above the age of 18, we can achieve herd immunity where we can basically put a comma to the transmission of the virus and if people adhere to the strict health guidelines we will be done with the virus, Dr. Wijemuni said.
Places where Covid-19 vaccination centers have been set up in colombo
Crow Island - Colombo 15
Bandaranaike Mawatha, Maternity Home - Colombo 12
P.D. Sirisena Grounds - Colombo 10
Campbell Park - Colombo 08
Public Library - Colombo 07
Torrington Flats - Colombo 05
Anderson Flats - Colombo 05
MOH office District 5 (Wellawatta) - Colombo 06