---
He is reported to have come to the rescue of a woman who was harassed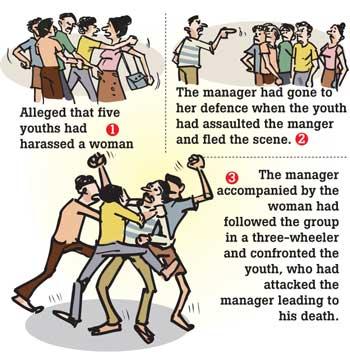 By Darshana Sanjeewa Balasuriya
The 47-year-old manager of a popular salon in Slave Island was killed at Muttiah Road on Sunday night, Police Spokesman Ruwan Gunasekera said.
He said the police believed that a dispute with some youth in the area might have led to the killing.

SP Gunasekera alleged that five youths aged between 17 and 24 had harassed a woman while the manager had gone to her defence when the youth had assaulted the manger and fled the scene.

"Later, the manager accompanied by the woman had followed the group in a three-wheeler and confronted the youth, who had attacked the manager leading to his death," he said.
The suspects were caught by some airmen and handed over to the Slave Island Police, who had also recovered an iron rod said to have been used in the attack.
They were identified as residents of Polgasowita, Kandy and Slave Island and produced in the Fort Magistrate's Court yesterday and remanded till August 19.
Later, the manager accompanied by the woman had followed the group in a three-wheeler and confronted the youth, who had attacked the manager leading to his death