---
Mohamed Imran alias Kanjipani Imran, was arrested along with underworld figure Makandure Madush in Dubai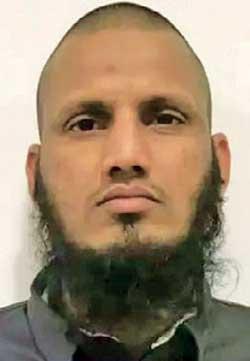 By Darshana Sanjeewa Balasuriya
The Police Special Task Force (STF) carried out a special search operation at Boossa Prison where underworld figure Kanjipani Imran is being detained and recovered two mobile phones including a smartphone from his cell.
The STF said they had also recovered two SIM cards, a mobile phone charger and a handsfree set found hidden inside the ceiling of the cell.

Kanjipani Imran's cell was searched for over an hour on Saturday.

Last year, six persons including the father and a brother of Kanjipani Imran were arrested for attempting to give two mobile phones and two chargers to Kanjipani at the Boossa Prison.

Several high profile special prisoners connected to the drug mafia and underworld are currently being housed at the Boossa Prison. Mohamed Imran alias Kanjipani Imran, was arrested along with underworld figure Makandure Madush in Dubai.