---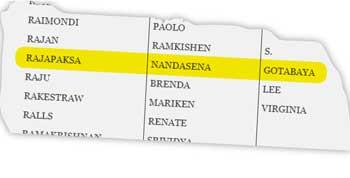 By Lahiru Pothmulla
President Gotabaya Rajapaksa's name appeared in the latest quarterly publication of the US Federal Register of individuals who have chosen to renounce their US citizenship.
The publication issued yesterday can be viewed at the official website of the US Federal Register.
During the days leading to the last presidential election, the issue of then SLPP presidential candidate Gotabaya Rajapaksa's US citizenship became a hot topic. Since the Constitution of Sri Lanka does not allow a dual citizenship holder to run for the office of the President or even to be elected as an MP, many political opponents questioned the authenticity of Mr. Rajapaksa renouncing his US citizenship when his name did not appear in several quarterly Federal Register publications.

Ambassador Alaina B.Teplitz once said that the Federal Register could often be months behind the recording of one's renunciation of citizenship. When contacted yesterday, a spokesperson of the US Embassy said, "I can confirm that Gotabaya Rajapaksa renounced his U.S. citizenship in April 2019 and is no longer a U.S. citizen."