---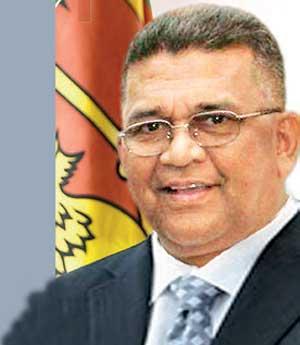 By Hasfer A.Haleem
MP Ven. Athuraliya Rathana Thera is trying bring about a split between the Tamils and Muslims in the North and East, while engaging in the same ploy with the Muslims and Sinhalese in the South, Trincomalee Parliamentarian Abdullah Maharoof said in a media release issued yesterday.
He said that while the regime of good governance brought about happiness and peace of mind in all parts of the country, certain saboteurs as partners of the regime were bent on creating discord in the country and disturbed the freedom so far achieved. Our religion does not accept terrorists and those who engaged in sabotage. "God does not forgive those who commit suicide and our religion does not accept those who commit suicide," he said.

"Further, the security of the society should be based on the prevailing conditions in the country. The existence of the Muslims should be guaranteed by the President and the Prime Minister.Innocent Muslims have been arrested under the Prevention of Terrorism Act and this has created economic difficulties for their families as well as psychological stress.These people should be released forth with," he said in his report.
---
Mansoor calls to resolve Kalmunai DS issue without conflict
by M.S.M HaniffaIt i
s absolutely necessary to solve the Kalmunai North Divisional Secretariat issue without creating a controversy between the Tamils and Muslims, Digamadulla District Parliamentarian M.I.M. Mansoor said. Meanwhile, the Digamadulla Parliamentarian in a communiqué issued yesterday said that the hegemonic forces were yearning to create a controversy between the Tamils and Muslims to attain their political objectives. "As such, the Tamils and Muslims should realise the true situation and reach a compromise and the issues could be solved only through such a mechanism. Moreover, we should not allow the hegemonic forces to intervene and attain their political objectives as this was a ploy orchestrated to disrupt the Tamil – Muslim unity.

Hence, we have to act with composure without succumbing to the pressure exerted by them," he said.

Parliamentarian Mansoor said that 73% of Muslims and 23% of Tamils lived in Kalmunai and at the height of the war in 1989 the Sub Divisional Secretariat was forcibly created by the LTTE and the Tamil administrative functions were carried out through that body.

"Meanwhile, the Muslim villages in Kalmunai, business establishments, lands and valuable assets were forcibly brought under the purview of this Divisional Secretariat causing injustice to the Muslim community. The Muslims never did anything against the Tamil administration. However, the demarcation of the administration boundary was based on the community domiciled in an area. Under these circumstance, when boundaries are demarcated the fundamental policies in connection with the boundaries should not be violated. Nevertheless, we have to discuss over this issue among ourselves and evolve a solution while the hegemonic forces should not be allowed to intervene and attain their political objectives," he further said.