---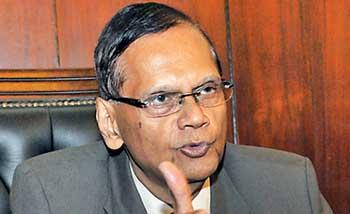 By Kelum Bandara
The Sri Lanka Podujana Peramuna (SLPP) yesterday slammed President Maithripala Sirisena's remark that the 19th Amendment was the main obstacle to national progression saying the President himself was the single largest contributor to the present crisis in the country.
The President made a profound statement that 19A brought about two rival centres of power in the country.

Addressing a press conference, SLPP Chairman Prof. G.L. Peiris took a swipe at the President. He said he forewarned of such an anarchical situation in his contribution to the course of parliamentary debate on the 19th Amendment.

"I was in Parliament at that time. I vividly recall what happened. I called for a change in the electoral system before the enactment of the constitutional amendment. However, the President asked for support to enact 19A with the assurance he would bring in the 20th Amendment to reform the electoral system. The President gave a solemn pledge on the floor of Parliament. We supported 19A on that presidential guarantee. The President even referred to the 19th Amendment as the badge of the Yahapalana Government," he said.
I called for a change in the electoral system before the enactment of the constitutional amendment