---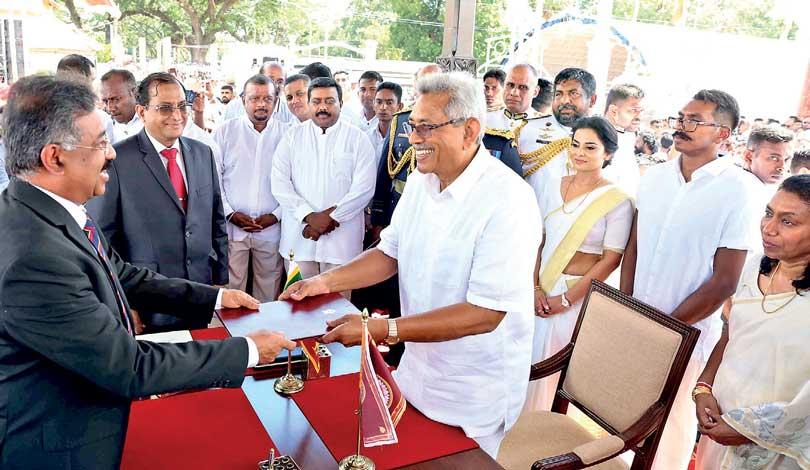 Pix by
Pradeep Dilrukshana
Wishes to remain neutral in foreign relations
Requests Tamils and Muslims to join him for country's betterment
Pledges corruption will never be tolerated under his administration
Says won't hesitate to exercise executive powers for betterment of country
Vows to end terrorism, underworld activities, extortion and drug smuggling
By Lahiru Pothmulla in Anuradhapura
In his maiden address to the nation, a plain-speaking President Gotabaya Rajapaksa said he would form a new government that could implement his policies.
"To exercise the historic mandate given, I will form a new government which can act on my policies. I love my country and I'm proud of it. I have a vision. I request all patriots to join me to create a prosperous country," he said.

Commenting on the foreign policy of his government, he said they expected to work cordially with all countries.

"Sri Lanka does not need to get caught in battles among various nations in world politics. We want to remain neutral in our foreign relations and stay out of any conflict among world powers. We request all countries to respect the sovereignty and unitary character of our country," he said.

Furthermore, he said a government should always set an example to the society because professionalism and efficiency should be the cornerstones of the new administration.
"Meritocracy and technocracy should be promoted at all times. Corruption will never be tolerated under my administration. We have many responsibilities to fulfil for the future generations. We need to hone their skills and empower them with intelligence. We should also empower our people by introducing latest technology to all sectors to face 21st century trends," he said.
On a different note, the President said he knew he could win the election solely from the votes of the Sinhalese community. However, he renewed his request made to the Tamil and Muslim communities to join hands with him for the betterment of the country.

Delivering the address from Salapathala Maluwa at Ruwanweliseya in Anuradhapura, President Rajapaksa said they knew from the very inception that the key factor of this election was the majority Sinhala community.

"I come to you today as the President, commander of the tri-forces and Defence Minister who is responsible for the security of you and your children. I have to mention with respect that the blessings of the Maha Sangha contributed to victory. I knew I could win solely from the votes of the Sinhalese community. I made a special request to the Tamil and Muslim communities to be part of that victory. The response to that request was not up to the expectations. But, as the new President of all of you, I request again for the betterment of the country, to join me to take the country forward as true Sri Lankans," he said.

President Rajapaksa extended his gratitude to all those who voted for him as well as others who exercised their franchise by casting their vote to any of the 35 presidential contenders.
"As someone born and raised in a family with a Buddhist background and as someone who studied at Ananda College, Colombo which is at the helm of Buddhist education, Buddhist teachings and vision have been etched in me. Buddhist teachings highlight a state which respects all and promotes justice and equality which are a safe haven for all communities and religious groups. I am committed to working for the betterment of Buddhism in the country. We should always safeguard the Sinhalese civilisation which has been preserved for thousands of years. Therefore, State patronage will be given to preserve ethics and values shaped by this civilisation," he said.

Moreover, he said he would always uphold the rights of all Sri Lankans who lived in harmony and reconciliation by bonding with the main civilisation throughout the history, especially when preserving their own religious and ethnic identities so they could live respectfully.
Thanking all those who contributed to his campaign, President Rajapaksa said his strength was his brother Mahinda Rajapaksa.

"Throughout the campaign, my strength was former President Mahinda Rajapaksa and I wish you happy birthday today. I also thank the man behind SLPP, Basil Rajapaksa, party chairman, secretary, all members, other parties, party leaders and officials. The support of the SLFP and its leaders should also be mentioned. Rebuilding the country as one nation is a challenge. The mandate was given to me to implement the pledges in our election manifesto. This programme will preserve sovereignty, security and stability of the country, will fulfil expectations of all citizens and create a prosperous country for the future generations. I will fulfil all pledges during my tenure and the key responsibility will be to preserve national security. Our motherland will be made free of terrorism, underworld activities, thievery, extortion, drug smuggling and child and women harassment," he said.

President Rajapaksa said discipline and ethics maintained during the election campaign would be carried forward.

"We need your help to create a law-abiding and disciplined country. As the President, my responsibility should be to serve all people in the country. We will uphold civic rights of all citizens regardless of whom they voted for. I am always committed to fulfil pledges in our manifesto. We have many challenges ahead of us. We have to do a mammoth task within a short span of time. If there is will, there is a way. Any challenge can be accomplished. We have the vision to build the country. I will not hesitate to exercise my executive powers for the betterment of the country," he said.

President Rajapaksa was accompanied by First Lady Ioma Rajapaksa, their son Manoj and his wife at the swearing in ceremony held yesterday.

Prime Minister Ranil Wickremesinghe, former President Mahinda Rajapaksa, Shiranthi Rajapaksa, ministers and MPs were also present.
Requests all countries to respect the sovereignty and unitary character of Sri Lanka
Says professionalism and efficiency should be the cornerstones of the new administration
Vows to carry forward discipline and ethics maintained during election campaign