---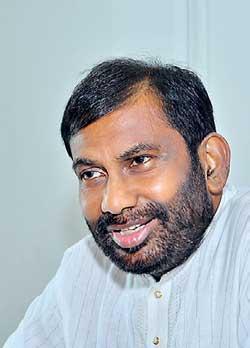 By Yohan Perera
No Samagi Jana Balawegaya ( SJB) candidate will be allowed to enter Sirikotha after August 5 and those who want to rejoin the UNP should do so now, former minister and UNP candidate Daya Gamage said yesterday.
Mr. Gamage said this in response to a question raised by journalists at a press conference, on the remarks made by many SJB candidates who had said they will take over Sirikotha after August 5 2020.

"We will not allow anyone to come to Sirikotha after August 5 and anyone who wants to join us must do so before that date," he said.

Asked whether the UNP is willing to form a government together with SJB after the election, he said the intention of his party is to form a government on its own. "UNP is looking towards obtaining a maximum number of seats and form the government alone," Mr. Gamage said.

He said the way UNP presidential candidate Sajith Premadasa handled the campaign is a lesson for everyone. "Mr Premadasa was uttering various things during the presidential election. He promised to distribute sanitary pads free of charge to all women but did not have a programme for it. My wife Anoma Gamage and I, planned a programme to get Indian technology and produce sanitary towels to be distributed among Sri Lankan women. One should not utter promises without a plan to deliver them," Mr. Gamage said.
The intention of his party is to form a government on its own
The way UNP presidential candidate Sajith Premadasa handled the campaign is a lesson for everyone