---
We are also seeking Indian assistance for the proposed Mannar, Vavuniya and Trincomalee high way
By Yohan Perera in Mullaithivu
Marine transport service is to begin between Kankesanthuri (KKS) Port and South India while the Talaimannar and India Ferry service is to be expanded to accommodate goods transportation, Prime Minister Ranil Wickremesinghe said over the weekend.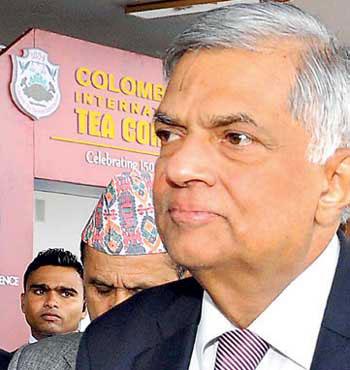 Speaking during a meeting in Mullaithivu, the Prime Minister said Sri Lanka is looking towards developing the KKS Port with Indian assistance. He said a new terminal will be set up at KKS with Indian assistance. "The old cement factory will be removed and replaced with a modern terminal," the Prime Mnister said.

"We are also seeking Indian assistance for the proposed Mannar, Vavuniya and Trincomalee high way," he said.

"We will develop the Trincomalee Oil Tank Farm with India. These tanks are too much for us. Therefore they will be used to store stocks of oil which India needs," the Prime Minister highlighted.

He also said the Palali Airport will be expanded into a regional airport. "The airport will be expanded to handle A320/A321 aircrafts," he added

Coming up with more plans, the Prime Minister said the government has decided to plant coconuts in the North. Large plantation companies will be given the opportunity to buy lands and grow coconuts while they will also be made to rent lands from smaller scale land owners and run joint venture companies. The Palmyra plantations will be expanded in the same way.

"With all these we will bring about a great transformation to the North. " You lost a great deal as a result of the war but you are going to have much because of peace," the Prime Minister also said. He urged the people and politicians in the North to support the government in its endeavour to develop the North.
With all these we will bring about a great transformation to the North. " You lost a great deal as a result of the war but you are going to have much because of peace