---
Indian External affairs Ministry says India is firmly and resolutely committed to taking all necessary measures to fight the menace of terrorism.
Issuing a statement, the Indian Ministry said, "A suicide terror attack was conducted by a Pakistan-based terrorist organization Jaish-e-Mohammad, leading to the martyrdom of 40 brave jawans of the CRPF. Jaish-e-Mohammad, has been active in Pakistan for the last two decades, and is led by Masood Azhar with its headquarters in Bahawalpur.

This organization, which is proscribed by the UN, has been responsible of a series of terrorist attacks including on the Indian Parliament in December 2001 and the Pathankot airbase in January 2016.

Information regarding the location of training camps in Pakistan and PoJK has been provided to Pakistan from time to time. Pakistan, however, denies their existence. The existence of such massive training facilities capable of training hundreds of jihadists could not have functioned without the knowledge of Pakistan authorities.

India has been repeatedly urging Pakistan to take action against the Jaish-e-Mohammad, to prevent jihadists from being trained and armed inside Pakistan. Pakistan has taken no concrete actions to dismantle the infrastructure of terrorism on its soil.

Credible intelligence was received that Jaish-e-Mohammad, was attempting another suicide terror attack in various parts of the country, and the Fidayeen jihadists were being trained for this purpose. In the face of imminent danger, a pre-emptive strike became absolutely necessary.
Jaish-e-Mohammad, has been active in Pakistan for the last two decades

In an intelligence led operation in the early hours of today, India struck the biggest training camp of Jaish-e-Mohammad,in Balakot. In this operation, a large number of Jaish-e-Mohammad, terrorists, trainers, senior commanders and groups of jihadists who were being trained for Fidayeen action were eliminated. This facility at Balakot was headed by Maulana Yousuf Azghar (alias Ustad Ghouri), the brother-in-law of Masood Azhar, the head of Jaish-e-Mohammad.

Hence this non-military preemptive action was specifically targeted at the Jaish-e-Mohammad, camp. The selection of the target was also conditioned by our desire to avoid civilian casualties. The facility is located in thick forest on a hilltop far away from any civilian presence. As the strike has taken place only a short while ago, we are awaiting further details.
The Government of Pakistan had made a solemn commitment in January 2004 not to allow its soil or territory under its control to be used for terrorism against India. We expect that Pakistan lives up to its public commitment and takes follow up actions to dismantle all Jaish-e-Mohammad, and other camps and hold the terrorists accountable for the actions.
---
Srilankan cancels flights to Karachi, Lahore
Temporary closure of Pak airspace
SriLankan Airlines has cancelled flights to the Pakistani cities of Karachi and Lahore scheduled for Thursday, February 28, 2019, following the temporary closure of Pakistani airspace by the Civil Aviation Authority of Pakistan, a statement said.
Passengers who were booked to fly to Karachi and Lahore are advised to contact their travel agents and visit www.srilankan.com for further information.

SriLankan regrets the inconvenience to its valued passengers, which is due to circumstances entirely beyond the airline's control. The safety of all of our passengers is of paramount importance to SriLankan Airlines. The airline is closely monitoring the situation and is in constant touch with respective authorities on this matter.
---
SL urge India, Pak to ensure security, peace, stability
While asserting that Sri Lanka is deeply concerned about the recent developments following the brutal terrorist attack on a Central Reserve Police Force (CRPF) convoy in Pulwama,
India, Sri Lanka yesterday requested India and Pakistan to act in a manner that ensures the security, peace and stability of the entire region.

The Foreign Affairs Ministry, issuing a statement in this regard, said, "As a country that has suffered from the scourge of terrorism for nearly three decades, Sri Lanka has unequivocally condemned this terrorist attack in Pulwama and stands firmly by the fight against terrorism in all its forms and manifestations.
SL condenms Pulwama attack

Sri Lanka strongly supports peace and stability in the South Asia region and all endeavours towards the diffusion of tensions, including the resolution of bilateral problems through dialogue and building confidence.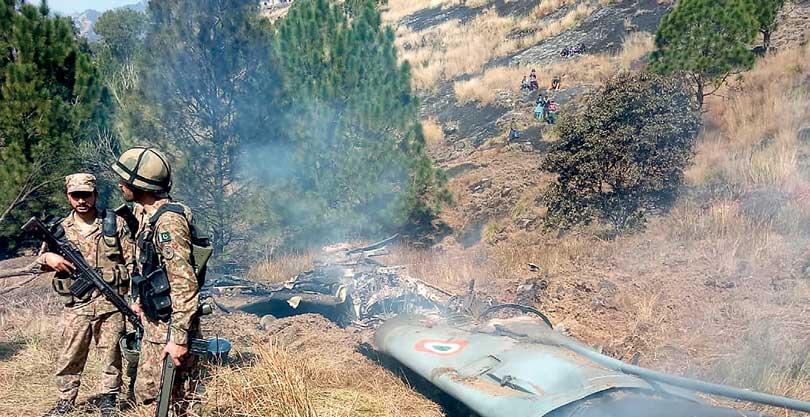 ---
Pakistan's strike within its airspace - Pak FAM
The Pakistani Foreign Affairs Ministry said yesterday Pakistan Air Force undertook strikes across Line of Control from within Pakistani airspace.

The statement said," This was not retaliation to continued Indian belligerence. Pakistan has therefore, taken strikes at nonmilitary target, avoiding human loss and collateral damage. Sole purpose being to demonstrate our right, will and capability for self-defence. We have no intention of escalation, but are fully prepared to do so if forced into that paradigm. That is why we undertook the action with clear warning and in broad daylight.

For the last few years, India has been trying to establish what they call "a new normal" a thinly veiled term for doing acts of aggression at whatever pretext they wish on a given day. If India is striking at so called terrorist backers without a shred of evidence, we also retain reciprocal rights to retaliate against elements that enjoy Indian patronage while carrying out acts of terror in Pakistan. We do not wish to go to that route and wish India gives peace a chance and to resolve issues like a mature democratic nation," the statement added.