---
Maize production to reach self-sufficiency next year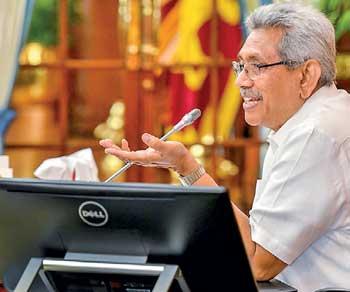 By Lahiru Pothmulla
President Gotabaya Rajapaksa, said it was high time to increase agro harvests to strengthen the local economy and that it was necessary to encourage farmers to increase local potato production to meet the demand without having to import them.
He said the annual potato production in Sri Lanka stood at 80,000 tonnes though the annual consumer demand was 250,000 tonnes.

The President said this at a discussion to review future plans of the State Ministry of Paddy and Cereals, Organic food, Vegetables, Fruits, Chilies, Onions and Potatoes, Seed Production and High Tech Agriculture at the Presidential Secretariat on Monday.

He emphasized the importance of strengthening national agricultural economy in the context of global economic collapse during the COVID-19 pandemic.
The Presidential Media Division said the Head of the Presidential Task Force for Economic Revival, Basil Rajapaksa has said the local production can be increased via the distribution of hybrid seeds and saplings developed using new technology to the farmers and they could minimise the import of potatoes by encouraging consumers to consume substitutes.
He said maize production will reach self-sufficiency next year.

The President highlighted the importance of using modern technology in the production of seeds and sapling, and therefore the requirement for conducting researches in this aspect.
Measures to minimize wastage in storage and transportation were also discussed in depth.
Officials were asked to fill in the vacancies at the Department of Agriculture, that have not been filled in the last eight years, and to devise a proper strategy to boost the industry