---
Blue and red notices have been issued to Interpol for his arrest
The SL Govt. is also in discussion with the S'pore Govt. to get him extradited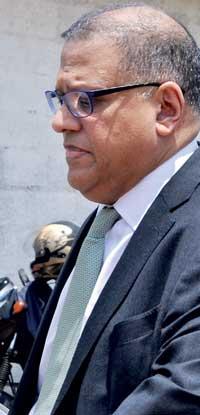 By T. Farook Thajudeen
Deputy Solicitor General (DSG) Priyantha Nawana yesterday informed the High Court Special Trial–at- bar that the Government was taking steps to bring down Central Bank's former governor Arjuna Mahendran from Singapore under extradition laws.
He said the Colombo Magistrate's Court had issued a blue notice and a red notice to the Interpol for his arrest while the Government was discussing with the Singapore government to get him extradited.

The DSG said this during the trial against Arjuna Mahendran, Perpetual Treasuries owner Arjun Aloysius and eight others.

Eight accused were present in Court while the first accused Arjun Mahendran, and the tenth accused Ajahn Gardier Punchiheva were absent. The DSG said Mr. Punchiheva was residing in Singapore and requested that a warrant be issued for his arrest. The Court ordered the tenth accused to be Court when the case is next taken up on September 24.
The three Judge-Bench comprising Sampath Abeykoon, Sampath Wijeratna and Champa Janaki Rajaratna released the eight accused present in courts, each on a Rs.1 million cash bail and two sureties of Rs 2.5 million each. Their foreign travel was restricted and indictments served.

The Attorney General indicted ten accused -- Mahendran, its former deputy governor Lakshman Paththinige Samarasiri, Arjun Joseph Aloysius, its directors Jeffery Joseph Aloysius, Kasun Oshadhee Palisena, Pushya Mithra Gunawardane, Chitta Ranjan Hulugalla, Muthuraja Surendran and Ajahn Gardier Punchiheva. The case was taken up before the Special High Court on a request made by the Attorney General Dappula De Livera requesting the Chief Justice to file indictments against the 10 accused over the Central Bank bond scam before the Permanent High Court trial -at-Bar. The trial was postponed for September24.