---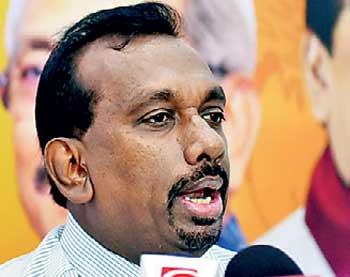 By JAMILA HUSAIN
Following a complaint made to the IGP against former Prime Minister Ranil Wickremesinghe and UNP MP Ranjan Ramanayake by Minister Mahindananda Aluthgamage last Thursday, the Daily Mirror learns that the complaint has been handed over to the CID to begin investigations and the former Prime Minister and UNP MP are to be summoned for a statement soon after the telephone conversation has been verified.
Aluthgamage, in his complaint alleged that his life was under threat since 2015 and this had been further exposed following the leaked telephone conversation between Ramanayake and Wickremesinghe which alleged there was a plot to kill him.

Aluthgamage told Daily Mirror that following his complaint, he will be summoned to the CID soon to give his statement while the Daily Mirror learns that Wickremesinghe and Ramanayake are also likely to be summoned soon over the complaint. Meanwhile, a severe battle has ensued within the UNP with some members calling on the party leadership to oust Ramanayake from the party. Sources within the UNP said some members within the party had conveyed this to the working committee and senior members while some other members have called for an inquiry against Ramanayake.

An estimated 121,000 telephone conversations are currently in CID custody and a police probe to verify its authenticity is currently underway.
Aluthgamage, in his complaint alleged that his life was under threat since 2015