---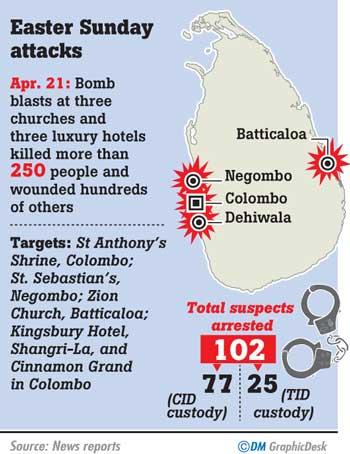 By Chaturanga Samarawickrama and T.K.G. Kapila
Five terrorist suspects including Mohamed Milhan alias Abu Seelan, arrested in Saudi Arabia in connection with the Easter Sunday attacks, were brought back to Sri Lanka by the CID this morning, Police said. They said a special CID team had left for Saudi Arabia on June 11 to bring back the suspects who were in Saudi Police custody. The suspects were detained under CID custody for further questioning.
The Department of Immigration and Emigration said the suspects arrived at the BIA from Jeddah in Saudi Arabia on SriLankan flight UL 282. The other four suspects were identified as H.M.A. Molhan, A.Abubakar, M.M.M. Shauawaz Sabri and M. Ismail. Initial police investigations revealed that Milhan was responsible for the killing of two Police constables at the Batticaloa, Vavunathivu checkpoint on November 30, 2018.
Initial police investigations revealed that Milhan was responsible for the killing of two Police constables at the Batticaloa, Vavunathivu checkpoint on November 30, 2018