---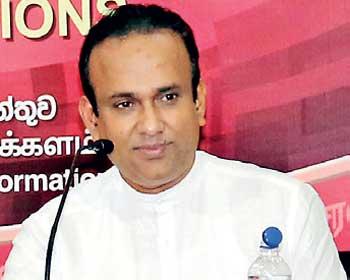 By Sandun A Jayasekera
The Singapore government will inform the legal position on the extradition of the prime suspect in the Central Bank bond scam to Sri Lanka in a fortnight and if all chips fall into place, the alleged fugitive Arjuna Mahendran could be produced in a Sri Lanka court soon, Cabinet spokesman and Minister Ramesh Pathirana said yesterday.
Responding to the Daily Mirror at the weekly cabinet news briefing, Minister Pathirana said the Attorney General had submitted all particulars and information on the court proceedings against Mahendran to the Singapore authorities on their request.

"I hope, we would receive a positive feedback from Singapore in the weeks to come," he said.

When asked about the progress made so far to bring back the MIG aircraft deal suspect Udayanga Weeratunga, who is under an Interpol warrant, co-cabinet spokesman and Minister Dulles Alahapperuma said he would also be brought back when the time and legal procedure was right.

"But there is a snag in bringing Udayanga back as the cooperation from the Dubai authorities are not encouraging," Minister Alahapperuma said.

"If and when Arjuna Mahendran starts giving evidence on the bond scam in a Sri Lanka court, he will have to expose the 'big man' above him who is the mastermind of the scandal," Minister Alahapperuma said.

He added that any fugitive or a suspect who are warranted to appear before a Sri Lanka court and evade arrest would be brought back to Sri Lanka and produced before courts whether their political affiliation is green, blue or red.

Replying to another question, Minister Alahapperuma said Parliament was not prorogued for January 3 to prevent the Committee on Public Enterprise (COPE) inquiring the forensic audit report on the bond scam and added these reports could be re-examined after Parliament was convened after January 3.
Pics by Nimalsiri Edirisinghe