---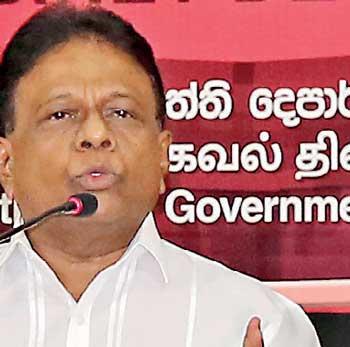 By Sandun A Jayasekera
In a range of drastic reforms in National Education, the Government would abolish the Z score system for University entrance and increase the number of National Schools to 1,000 from the current 374 giving at least one National School to each Divisional Secretariat where not a single National School exists right now, Education Minister Dulles Alahapperuma said.
The new University entrance standard based on school level instead of district level will be applied to university admission in 2021 for students sitting GCE A/L examination in 2020, he added.

The upgrading of 626 schools as National Schools will begin immediately and the cabinet approval for these reforms was granted on Tuesday (10), Minister Alahapperuma told the cabinet news briefing yesterday.

"There are 10,175 schools for 4.5 million students in the country but only 374 of them are so called prestigious or popular schools, officially identified as national schools. The objective of the new government is to give at least one national school to each divisional secretary zone in difficult areas where not a single national school is located. In 124 Divisional Secretary zones in the country, not a single National School exists while there are 37 National Schools in 13 Divisional Secretariat zones in Colombo. In the North there are only 26 National Schools in 38 Divisional Secretariat zones. In some difficult areas the situation is worse. What we want is to create an opportunity for each and every student in education," Minister Alahapperuma noted.

Commenting on the Z score introduced in 1994 for University entrance, Minister Alahapperuma said the system has created many a discrepancies and disadvantage for GCE A/L students.