---
The ministry took precautionary measures to avoid and minimise the risk of transmission of the virus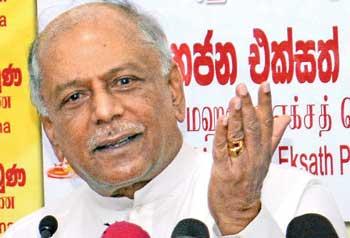 By Sandun A. Jayasekera
Dismissing social media reports that Foreign Relations Minister Dinesh Gunawardana has contracted COVID-19 through a ministry official, the ministry said yesterday he had not come into contact with the said officer who returned to Colombo on March 8.
"The officer concerned attended the ministry only on one working day of last week prior to the return of a family member to Colombo who had been infected with the virus. On learning this, the ministry took precautionary measures to avoid and minimise the risk of transmission of the virus. The officer concerned remains self-quarantined since March 13," the ministry said. As an initial step, staff members who came in direct contact with the officer concerned and others in a European capital where the person was working two weeks ago have been advised to self-quarantine. Further action has been taken to disinfect relevant areas of the ministry. The ministry said it would continue to monitor and assess the situation for future course of action to ensure the safety of its staff and visitors.

"Nevertheless, as a precautionary measure, staff members who have come into contact with the officer concerned during a working day last week, staff and family members residing in the ministry quarters where the officer and family members reside and the staff of the Geneva permanent mission where the officer was working in the previous two weeks have been advised to self-quarantine," the ministry said, adding that the ministry official was now in good health.
Staff members who came in direct contact with the officer concerned and others in a European capital where the person was working two weeks ago advised to self-quarantine